There's only one thing to do–get back, Jack, and Do It Again!
(Steely Dan, 1973)
Fighting for Post-Season Existence, the Georgetown Hoyas host the Xavier Musketeers (#8) at noon today at Verizon Center.  With a chance to squeeze at least a little toe into the post-season discussion, the Hoyas will need to play the best 40 minutes of their season before what hopes to be a raucous partisan crowd.
As each game leading up to this game were of "Must Win" status, a win against Top 10 Xavier would turn heads despite the recent uninspired losses at Providence and to Seton Hall.  
On January 19th at the Cintas Center in Cincinnati, Ohio, the Hoyas surprised then #5  Musketeers, 81-72.  Sophomore guard Tre Campbell had a career game in scoring 21 points, 17 of his game-high 21 points in the first half and the Hoyas connected on 51 percent of their shots from the field.  There is no question that the Hoyas will have to shoot much better than they have of late to pull out a win over a surging Xavier today.
Georgetown has a 14-13 overall record and a 7-7 mark in conference after losing at home to  Seton Hall on Wednesday night in a game where they found themselves behind early and could never regain the lead.
The Hope:
 Today is an official GRAY OUT Game and the Hoyas have an all-time record of 5-1 in Gray Out games, including four-straight wins (Syracuse in 2012, St. John's in 2013 and Butler in 2014 and 2015).
2.  Jessie Govan:  In the Seton Hall game, freshman center Govan made his first career start and  scored a career-high 27 points and had seven rebounds to lead the Hoyas.  In two games as a starter, Govan averages 20 points and 4.5 rebounds per game. He is fifth on the team in scoring with 7.4 points and 3.9 rebounds.The Hoyas will need more of this from Govan and their bigs as they play one of the most complete teams in the nation in the Muskateers, who have won 7 of their last 8.  The Hoyas have lost 6 of their last 8.
The Hoyas will continue to miss senior center Bradley Hayes, who is out indefinitely after breaking his left hand in practice last Thursday. Hayes was averaging 8.5 points and 6.6 rebounds per game.
While D'Vauntes Smith-Rivera (DSR) leads the Hoyas in scoring, and ranks fifth in the conference with 16.2 points per game. his season has been less than what was expected when he decided to return after his junior year.  His shooting percentages are mediocre and his turnover-assist ratio less than expected from a senior leader.  The Hoyas need DSR to lead his team today.
As importantly, the Hoyas today will also need the scoring prowess and continued strong play of sophomore guard LJ Peak, who has scored in double figures in each of the last nine games, averaging 15.2 points and 4.7 rebounds in that span while shooting 51.5 percent from the floor (50-of-97) and 43.8 percent from 3-point land (23-of-31). Peak is second on the team in scoring with 11.4 points per game and shoots 47.4 percent from the floor.  The Hoyas will also need sophomore forward Isaac Copeland to continue his recent solid performances, in the 92-67 GU win over St. John's and a 75-72 loss to Providence where Copeland averaged 17.5 points, 4.5 rebounds and .2.5 assists while shooting 57.1 percent from the floor.
In fact, the Hoyas will need their entire team to perform well today to pull off the upset at home.  Sharpshooting big man, freshman Marcus Derrickson and sophomore forward Trey Mourning both need to counter the size of Xavier and their 23-3 record coming into the game.
IF the Hoyas don't win today, they can kiss their NCAA tournament chances goodbye without winning the very competitive Big East tournament in New York.
Is it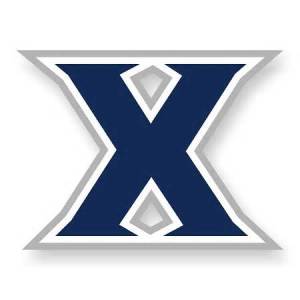 or