ProminentPlayer of the Game, Bradley Hayes #42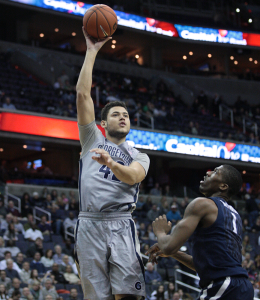 Full game analysis to follow shortly.
Two names that won't haunt the Georgetown Hoyas for years to come:  Jim Hayford and Tyler Harvey.  You can forget about them starting now!
DO Remember that Bradley Hayes played the greatest game of his career and showed why the Hoyas may have the best 3rd string center in Division I.
Up Next:  The Utes of Utah … waiting for Utes Coach Larry Krystkowiak to tell Jim Rome, "The Georgetown Hoyas are overrated and you should have us in your bracket."  Didn't he say that?  May we start a rumor?
LPP