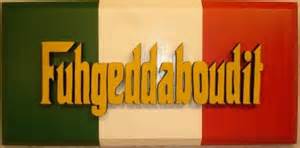 For one post today I am going to put on my Fan cap, all of my Georgetown gear, blue hair and face paint.  Every game is important now, with six remaining in the regular season and of those 6, tonight at the Pru (as in Prudential Center) in Newark against The Hall, and subsequent matchups with St. John's and Butler on the road.  The three home games are against DePaul, and rematches with The Hall and The Johnnies.
Having lost three of the last four, and two of those bad losses, what does the team need to do?
FUHGEDDABOUDIT!
YES, YOU ARE IN NJ NOW.  Not "fuhgeddaboudit" in the sense that the Villanova, Xavier and Providence losses didn't happen, but FUHGEDDABOUDIT! in that you must move on, Hoyas, and it is not worth the time, energy, or emotion to think about what could have been but rather to end the season on a strong note starting in the greatest city in New Jersey.  The Nets may have bolted but Newark, NJ is really the only happening major city in NJ today (I say sadly as Trenton is my hometown), and you can make an impact there tonight!
FUHGEDDABOUD any prior poor efforts at the Pru Center.  Think about only what you can control, tonight's game.  I was shocked to learn from guhoyas.com today that this will be the 98th all-time meeting between the schools, the second most against any opponent.  (What team have we played most?)  THINKABOUD the fact that the Hoyas lead the series, 55-42. FUHGEDDABOUD the fact that The Pirates won both games against us last season. THINKABOUD that YOU, HOYAS, have won seven of the last 11 games against Seton Hall under JTIII.
As a fan, I'm going to ask each player to FUHGEDDABOUD and THINKABOUD something before tonight's game.  One for Coach JTIII too.  🙂
DSR: 
FUHGEDDABOUD that horrible shooting game in Philly.  You are a great shooter and you will regain that touch.  Don't force shots but THINKABOUD how nice it feels to hear the swish of that net or the quiet of the opposing crowd.
JOSH:
FUHGEDDABOUD the fact that there will be ticky tack fouls but play smart and don't make stupid fouls (you know those happen occasionally).  THINKABOUD what a force you can be for this team when you have your game on and THINKABOUD putting the ball into the hoop instead of on the floor, where it may be stolen.
JABRIL:
FUHGEDDABOUD that loss to Nova, which may have hurt you more because it was in your hometown.  THINKABOUD that you are the heart and soul of this team, and are a great decisionmaker and helluva 3 point shooter.  THINKABOUD willing your way to the hoop as only you do, and draw fouls, when others pass around the perimeter and waste time.  And THINKABOUD making all of those free throws!
MIKAEL:
FUHGEDDABOUD the criticism about your scoring.  You are the best damn (excuse me) defender in the paint we have and we'll need you tonight.  The points will come, but if you swat those shots and dole out the blocks and shut down the Pirates, no one cares if you score 4 or 6 or 8, but who knows?  THINKABOUD scoring when you can because you can score, despite the criticism.  The team may not count on your points but your points can help us win games, especially points at the line.

LJ:
FUHGEDDABOUD the fact that you are a freshman.  As we head into the heart of February, THINKABOUD the fact that you are effectively a sophomore now.  You have had more minutes than the majority of Hoya freshman and we need your leadership, good decisionmaking and points.  THINKABOUD taking high percentage shots and slashing  to the hoop, as you beautifully do, when you can.
AARON (AB): 
FUHGEDDABOUD the fact that you don't play as many minutes as you should because when you get into the game, you always make an impact.  THINKABOUD the fact that YOU had the best game in Philly  (10 points, three rebounds and two steals) as the team struggled and that you are a senior leader who is capable of leading this team to victory tonight and beyond.  And THINKABOUD making all of your free throws.  🙂  You have a great stroke.  Finally, THINKABOUD playing great D against the Hall!
ISAAC:
FUHGEDDABOUD any recent shooting woes and know that you too, like LJ, Paul and Tre, are very important to this team.  THINKABOUD the fact that you have the opportunity to help your team get back on track with smart play and sharp shooting.
PAUL:
A similar message to you as to Isaac.  FUHGEDDABOUD any recent shooting woes.  You may have the greatest pure shot on this team and Hoya fans want you to get hot right about now.  THINKABOUD the fact that you are part of this exceptional class of freshmen and can lead this team tonight, this season and in seasons to come!  THINKABOUD starting with tonight!
TRE: 
FUHGEDDABOUD anything that is bothering you.  THINKABOUD the fact that you, when you enter the game, inject spark into the team like AB does.  THINKABOUD that you are part of a group of freshmen who collectively average 23.5 points, 9.5 rebounds, 3.7 assists and 2.2 steals per game (thanks, guhoyas.com)  THINKABOUD that you are a strong point guard, and while young, have made some key plays and shots this season.
REGGIE:
FUHGEDDABOUD how few minutes you play.  I know it's hard to get into a groove when you are not on the court for many minutes.  THINKABOUD what a great shot you have and how the team needs you when you are in the game.
COACH:
FUHGEDDABOUD decorum once in a while.  You are a great ambassador for Georgetown basketball and an exceptional mentor to your players. THINKABOUD losing your shit once in a while (like your Dad did), firing up the team and acting crazy.  I know that is hard for a Princeton Tiger but we Hoyas like to get crazy sometimes.  🙂

HOYA TEAM:
THINKABOUD beating the Hall tonight and FUHGEDDABOUD yesterday!

AND THINGALODABOUD STERLING GIBBS, YEA, STOP HIM.  🙂
After that win, if you are hungry, you can find the best Portuguese food within a few blocks of the Pru Center in the Ironbound Neighborhood!