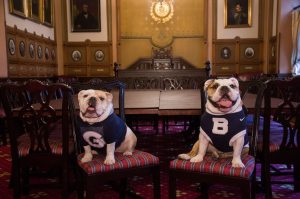 The Hoyas are coming off of one of their most complete games, a road win at DePaul on Tuesday night, and now have the opportunity to avenge their loss to Big East foe, Butler, in late November's Battle4Atlantis.  In that game, the Big East conference foes faced each other only because at the time each team signed onto Atlantis, they were not conference foes.  So it was an unusual matchup in that talent-packed holiday tournament.
While Jack the Bulldog and Butler Blue III have been all chummy in the past few days, cruising around campus and about town, drinking beer at Georgetown's Bulldog Tavern and catching up on their respective studies, these Dawgs will be all business when they get on the court at the Phone Booth Saturday afternoon.  For at least 40 minutes, all Drools will be Suspended and they will Bare their Teeth and Growl as they play for a serious prize: one team will be 4-2 in early conference play and climb the standings while the other will fall to 3-3.
The Hoyas have improved considerably since the 64-58 loss to Butler in the Bahamas, where the teams played for the third place consolation game in a crowded field of ranked teams, many of whom will likely be playing well into March and some perhaps beyond.  The Hoyas, young and sloppy, virtually handed the game to Butler. Up until that contest, the Hoyas had won all of the previous meetings (4) between the teams, including last season's home and away games. The Hoyas will look to start a new winning streak against the Bulldogs tomorrow.
Butler has surprised this season, currently 13-5 overall and 3-2 in league play.  After struggling last season, few expected Butler, with its second new (interim) coach in two seasons after Brad Stevens bailed to the Celtics, to be vying for one of the top spots in the Big East.  However, they have the talent to accomplish that, and the Hoyas will have to stop the likes of leading scorer and 3-point specialist junior guard Kellen Dunham, junior forward Roosevelt Jones and experienced senior guard Alex Barlow.
The Hoyas' Problems in Atlantis vs Butler:
1. Turnovers: The Hoyas committed 14 turnovers to Butler's 10, and Butler capitalized by scoring points off of Hoya mistakes.
2. Free throws:  The Hoyas shot 50% from the line while Butler shot 75%.  The Hoyas have learned since then that games are won and lost there, at the line.
3. Major mental lapses: As we have seen in subsequent games (especially Providence, most recently), when the Hoyas are off, they commit sloppy errors, don't handle the ball well, and have poor judgment and time management.  In the Bahamas, at a key juncture in the second half when the Hoyas were staging a comeback, they allowed Butler to take the ball out of bounds on Hoya scores and run virtual uncontested layup drills for 4 points.
While the Battle4Atlantis was a grueling tournament where the Hoyas played tough consecutive games against Florida (W), Wisconsin (close L), and Butler (L), that was no excuse. Butler was in a similar position having beaten UNC, lost to Oklahoma then faced Georgetown in the same time frame. Yet good things happened in that tournament that have carried over into the season, including strong play from freshmen "Sir Isaac" (my nickname) Copeland, Paul White and LJ Peak. Copeland and White scored 16 and 13 points respectively, against Butler, and should see a lot of action tomorrow.  With the upperclassmen carrying their load, continued focus and what appears to be a developing team chemistry, the Hoyas should have this–by 7 points–and beers should be on Butler Blue III at the Bulldog Tavern on Saturday night!