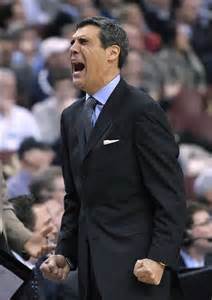 "You make a grown man cry … "  (Rolling Stones, Start Me Up)
In less than two hours from this post, the Hoyas will square up against a team that they barely beat at Verizon Center in their latest string of victories.  On January 6th, the Hoyas, playing well under their potential, prevailed in a forgettable (except for the W) 65-59 victory over the Wojo-coached (as in Duke lineage) Marquette Golden Eagles.
Since that game, the potential of the Upperclass Leadership (Trawick, DSR, Smith, Hopkins and Bowens) combined with the Coming of Age Super Frosh (Copeland, Peak, White et al) have led the Hoyas to, after a 60-57 OT (winnable) loss at Providence, three consecutive wins: the first a 78-72 win on  on the road over the "No Longer the Doormat" of the Big East DePaul Blue Demons (who have since beaten #24 Seton Hall in Newark, NJ);  the exciting final second 61-59 victory over Butler at home due to some late minute heroics of Copeland's sharpshooting and DSR's block; and of course, that Instant Classic, Big East "50 total fouls" Brawl and dominant win over Villanova at the Phone Booth on Monday.  The game that left Jay Wright shocked and searching for answers from the opening minutes until well after the final buzzer sounded.
So, The Question is:  Which Hoya Team will Show Up at Marquette Today?  The Team that struggled mightily on the road against Xavier on New Year's Eve and performed poorly at Providence, or the more complete Hoya team that fans have seen against DePaul and Villanova?
I predict that if the Hoyas stay cool, focused and within themselves, continuing to move and share the ball well, hit the boards, play ferocious defense and forget they are in enemy territory, they will win a critical road game today in the Big East.  But isn't every road game critical from this point forward?  Close but a 71-66 5-point victory.
With a 3-way tie at the top of conference standings this morning each at 5-2 (Providence, Georgetown and DePaul) and a solid national ranking on the line after the Villanova blowout, the Hoyas should be motivated to demonstrate that Monday night was no fluke.
NB:  Aaron Bowen played only 5 minutes tonight in DC, not enough time to do much of anything.  Will he see more time today?
We shall know The Answer/s soon.