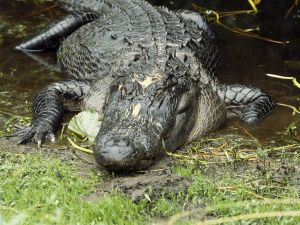 This Gator who resides in warm waters and swamps of the southeast and elsewhere can conquer many creatures, but last night fell short in conquering the Hoya, a mythical creature having origins on the Hilltop of Northwest Washington, D.C., with great powers, both active and dormant.  For Hoya fans hungry for an early season signature win, we claimed the victory, clawing and growling, just enough to shake off the dangerous jaws of the Gator.
First, I start with a caveat.  This blogger provides analysis based upon my view of the game from The Tombs, and thus I give thanks to the staff of the great college pub who tuned into AXS TV [what?!] to allow the faithful fans present on Thanksgiving Eve to cheer on their Hoyas at 9:30pm.  And it was well worth it!
The outcome of this context was always in doubt and provided the excitement of a late season, dare I say late March game, where #heartattackhoyas reentered the lexicon for at least one night.  The largest lead of either team was the Hoyas 8-point lead (30-22) near the end of the first half.  On this night, JT3 and his team had an opportunity, and grabbed it with the strong jaws of a bulldog, to tell the basketball world that they may be a force to be reckoned with in 2014-15.  And they have yet another chance today to wrestle with the #2 Badgers of Wisconsin.  A burrowing weasel doesn't sound nearly as menacing as a gator, but the Hoyas will have to play a much stronger and less turnover-prone game to win this semifinal of the Battle4Atlantis to reach the championship game.
Now let's get down to the nitty gritty of last night's game.  First, the Gifts of the Season:
I.  LJ Peak and Paul White:  As predicted in a previous entry, these #SuperFrosh have the ability to propel the Hoyas to the next level, immediately as it seems.  Both players had fine games last night and while most fans have been focused on Peak, each player spent 35 of 40 minutes on the floor, and White showed a complete game, scoring 10, with 5 rebounds and 3 steals.  Both appear very comfortable on a big stage, and while the entire team needs to cut down on turnovers to tame the Badgers, Peak had 4 t/o's of the Hoyas total 19 to the Gators 16.  It was exciting and fast, but not always pretty.
II.  DSR Accepts the Burden:  Worried against the cupcakes that D'Vauntes Smith-Rivera (hereafter "DSR") was weighted down by the pre-season accolades, against the Gators DSR eased our concerns and became the leader this team needs, down to coolly nailing the final jumper with 3.4 seconds remaining in OT.  17 points on 50% shooting, what he still needs to find is his 3 point range (0 for 5 last night).  In fact, the entire Hoya team struggled from 3, shooting 23% for the game.  That does tell us how we are likely NOT to win games this season.
III.  Hopkins and Trawick Stay the Course:  The #LeadershipCore of this Team, Mikael, Jabril and DSR, showed up last night.  Hopkins had a well rounded 8 points, 6 boards and 4 blocks, and Jabril contributed 10 points, 6 boards and 2 assists, while fouling out in regulation and committing 4 turnovers.  It will take better games from each of these players today to tame the badgers.  Bowen and Campbell rounded out the players with significant minutes (18 and 13 minutes, respectively), and except for Campbell's 4 rebounds, rather unremarkable performances.
The Concern of the Season:
IV.  Where Was Josh Smith?  My fear was realized last night, and while I hope it's a one-game hiccup, it is that Josh will not have his way with nationally ranked and stronger teams as he had with the likes of St. Francis and Corpus Christi.  Eight points, 4 boards,  4 turnovers and 4 fouls in a disappointing 17 minutes of play.  For Smith to make a difference on this Hoya team, he will have to step up his game against true bigs or he will soon lose his minutes to younger and more mobile players.
In less than two hours the Hoyas can make another wave in the Bahamas against the perennial March contender Wisconsin.  Do the Hoyas want gravy with their turkey and defer the pumpkin pie until after Sunday's final?