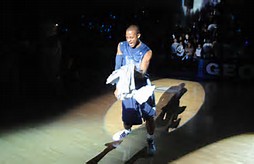 Where it all started–Jabril dancing at Midnight Madness
Do you wanna dance?  I want to dance with somebody.  You should be dancing! Just ask Mikael and David!  https://youtu.be/devaiemGiSA
However you'd like to express it, the Georgetown Hoyas are dancing in the Round of 32 and face the #5 seed Utah Utes of the PAC12 Conference  (7:45 p.m. ET, CBS).  Yes, Fans. today you don't have to find TruTV.  The Utes finished second in the conference behind the mighty Arizona Wildcats, a #2 seed that could have easily been a #1 seed, and played 4 ranked teams through the regular season.  Of the teams that they played, all 4 of those teams are still dancing as the date and time of publication.  The Utes and Hoyas will meet for the first time in hoops history at the Moda Center this afternoon (4:45 PT).  The Utes advanced with a 57-50 win against the Stephen A. Austin (SFA) Lumberjacks just prior to Georgetown's game with EWU on Thursday.
Steve Fisher's San Diego State team is still dancing (Ute loss to then #16 SDSU on 11/18, 53-49), then #8 Wichita State (69-68 Ute OT win at home, 12/3) is still dancing, Oregon (69-58 loss in OR on 2/22) and Arizona (2 losses, 69-51 in Tucson, later 63-57 at home), UCLA (loss 69-59 in LA on 1/29) still dancing as well. The Utes also lost to non-tourney team U. of Washington on March 7th in the PAC12 tournament, 77-68.
With no ugly losses this season, the Utes are a team on the rise with its current coach.  While this is Utah's first tournament appearance since 2009, and the victory over SFA its first since 2005, Coach K(rystkowiak) is clearly building a program and new tradition that harkens back to its glory days under former coach Rick Majerus, when the Utes advanced to the tourney 11 of 14 seasons, and fell to Kentucky 78-69 in the 1989 title game after defeating defending champ Arizona. Since Krystkowiak arrived at Utah 4 years ago, the Utes have steadily improved every season, from 6 wins in his first season to 21 last year, and 25 so far this season.  Hoyas hope to prevent #26.
The only common opponent of the Hoyas and Utes was Kansas, and those games ended similarly.  After Kansas beat the Hoyas 75-70 at Verizon Center on December 10, the Jayhawks traveled to the Sprint Center in Kansas City to beat the Utes 63-60 on December 13th.
Today Vegas odds has a line in favor of the Utes -4.5.  What do the Hoyas care about Vegas odds when they have Bradley Hayes!  Hayes beat all odds on Thursday night by playing the perfect 10 minutes of basketball to change the course of Hoya hoops history!  Vegas Schmegas!
Unlike the unsportsmanlike trash talking Jim Hayward, Utah Coach Krystkowiak shows respect for the Georgetown Hoyas, and that is reciprocated.   Krystkowiak said that his team's opponent, Georgetown, is synonymous with basketball:
"It's not anything you think about with many other sports. If you said name 10 basketball schools to an average fan, I wouldn't be surprised if Georgetown was one of the teams that they threw out … It's a heck of an opportunity, but at the same time a heck of a challenge."
Coach K of Utah, unlike the Coach H of EWU, shows respect for the Hoya program and noted that our legendary alum Patrick Ewing is a buddy. He added, "I've got a lot of respect for their program."
Show Us The Party:  So the guys are going to have to find another way to get fired up for this game and that is easy:  THEY SHOULD BE DANCING, YEA!  Win tonight, and seniors Trawick, Bowen, Hopkins, Smith and Coach Tyler Adams and teammates punch their ticket to the Sweet 16 party in Houston.  And do tell me what Hoyas don't like a great party?  Whether a Sweet 16 or a Presidential Inauguration or a pitcher of beer at the Tombs, the best college pub in America, Hoyas love parties.  Political, social, and athletic, the Hoyas are also synonymous with parties. And studiousness.  Hoyas know that you get to the party through hard work.  Hopefully Coach JTIII will have his student-athletes as prepared for the Utes as they were for the Eagles.
Utah's Weapons:   The Utes are best known for a great defense.  They also have senior guard Delon Wright, who leads the Utes with an average of 14.9 points per game, and is the younger brother of Portland Trail Blazer Dorell Wright.  Good bloodline.  While the Hoyas should not pay much attention to this as the Utes beat a strong SFA team on Thursday, senior center Dallin Bachynski tweaked his ankle and sprained it, missing two days of practice and did not play against SFA.  He should be ready for the game with Georgetown, according to Krystkowiak.  Regarding Wright, Krystkowiak said that his leg is a "little sore." He iced it after the SFA game.  Wright added, "It will be sore, but I'll be able to play."
Mutual Respect:  Coach JTIII, on the Utes' defense:   "They're big. They're versatile. They do a good job of just staying in front of you. There's no easy basket," he said. "You watch tape after tape after tape. No one gets an easy basket against them. They really make you work every possession to get a decent look at the basket."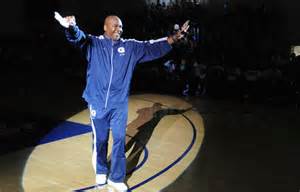 Coach, want to keep dancing with your team and fans?
LPP