Final Tribute to the Seniors: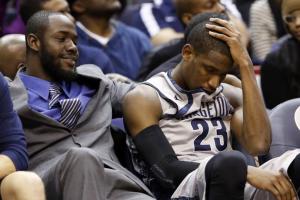 TYLER ADAMS Georgetown 2015 (on left)
Tyler, I am sorry that we were unable to see you play after your diagnosis of arrhythmia as a freshman, but am oh so pleased that your heart issue was timely discovered so that you may live a full and productive life.
We already know that you would make an exceptional coach, because you have been coaching from the sidelines ever since you were forced to sit out.  At the same time, if your Georgetown education sends you in another direction, we know you will succeed at that as well.  No doubt your coaches and teammates will be touched as will the entire Verizon Center when you start today's game in uniform after all of this time.  I already view that as the highlight of the game and whatever occurs afterwards is icing on the cake. (A victory would be nice as well)
I hope you enjoy it as much as we will, as we will always wonder what could have been, but that is useless when health is at issue and you have long ago moved on from the hoops dream– as a player.
How beautiful that Coach JTIII surprised you and your teammates after practice Thursday when he started by telling you that he didn't believe in the standard tradition of starting seniors in their final home game. Then, as reported by The Washington Post, Coach JTIII paused and turned to you. "But we're going to make an exception for Tyler," … You're starting."  According to the report and not surprisingly, your teammates were thrilled for you and supportive of the decision, including Josh Smith, who will give you his starting spot.
While you have been sidelined for almost your entire Georgetown career by this heart condition, after only 4 games into your freshman season, you have made an impact that many would not know unless they are an insider or avid reader of the sports columns and Hoya blogs.  Thanks to Georgetown and the oft beleaguered NCAA for allowing you to remain a part of this team on a medical hardship waiver. Georgetown took a further recent step of obtaining an NCAA waiver for you to appear in today's game against Seton Hall, apparently a process that Coach Thompson began 16 months ago.
As Coach stated, "Coming in, he was going to be the next Georgetown center. … It hurt him. It hurt us. But he's someone that has not pouted. He's someone that has found a way to help this team, to make his teammates better in a totally different way than what any of us envisioned. We just wanted to give him a chance to get back out there."
We love you for many reasons, not the least of which was coming to the Hilltop instead of Duke.  It seems that your decision has worked out well for you, aside from the unfortunate health condition, you have been a significant assistant coach and cheerleader for your teammates and friends.  We are grateful that you decided to stay at Georgetown when many schools would have cleared you to play for them.
For your leadership, exceptional attitude, your significance to this team for 4 years through today against Seton Hall and into the post-season, we thank you for being a Hoya.  #H4L #TylerAdams #GreatSpirit #NothingWillStopHim
Enjoy your start, take a three point shot!
LPP