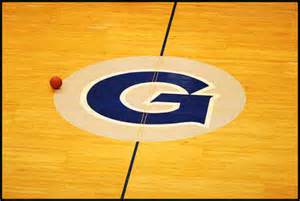 With four games to go in its Big East regular season, tonight in Prime Time (8pm Tipoff), the Georgetown Hoyas host DePaul at Verizon Center.  Taking one game at a time, no team should be overlooked and to continue its Road to Prominence, the Hoyas must continue its steady play against all conference opponents.  Coming off two solid victories against Seton Hall on the road and St. John's at home, the Hoyas conclude its 2-game homestand against the struggling Blue Demons, who have a 12-15 overall record and are 6-8 in conference.
Desperate for a win, the Blue Demons have lost 6 of their last 7 and 8 of their last 11 games.  Their last win was on February 3rd at home, beating Seton Hall 75-62 and have since lost at Butler and St. John's and at home to Providence, 84-57.  DePaul is led in scoring by sophomore guard Billy Garrett, Jr., who averages 13.5 points per game and junior forward Myke Henry at 12.6 points and 5.6 rebounds per game.  Sophomore center Tommy Hamilton IV is third in scoring with 10.7 ppt and 5.3 rpg.
On Tuesday night at the Phone Booth, the Hoyas (17-8 overall, 9-5 in the BIG EAST) dominated St. John's, 79-57, a team that is still holding onto an opportunity to get to the Big Dance this season.  The Hoyas have won seven of their last 10 games and are currently rated No. 20 in the country by RPI standards.  By contrast, the Blue Demons, who will have no post-season of any kind without a dramatic ending (winning out and/or winning the Big East tournament, highly unlikely), still have something to play for:  PRIDE.  The Hoyas are coming off of their most balanced team effort of the season, where six players, including Mikael Hopkins, as a reserve, scored in double figures, the Hoyas tied their season low in turnovers with 9, dominated the boards and shot well from the arc.
Last Time Around:  The teams last met on January 13th in Chicago in a physical game where the Hoyas rebounded from a loss to Providence with a solid team game to beat the Blue Demons, 78-72.  DSR led all scorers with 25 points, including some timely and effective free throw shooting at the end of the game (6 of 8 in the final minute).  The Hoyas shot 81.3% from the line, 50% from the field and 40% from the arc.  Trawick scored all of his 11 points in the first half, and the Hoyas led at halftime, 44-39. Josh Smith contributed 8 points, 4 boards, 3 assists and 3 blocks.  LJ Peak scored 8 points on solid shooting, 3 rebounds, a block and a steal, and Copeland played a strong 20 minutes off the bench with 8 points, 4 boards and 2 blocks.   DePaul was led by junior forward Myke Henry, who finished with 17 points. Talented sophomore guard Billy Garrett Jr. had 16 points and two other Blue Demon playes finished in double figures–Jamee Crockett with 12, and Aaron Simpson with 11.
Recent Hoya Accolades:  Freshman forward Isaac Copeland, who is peaking at the right time for the Hoyas and got the start in place of Hopkins, was named the BIG EAST Rookie of the Week after his 20-point, 8-rebound outing against Seton Hall last week, the second time this season he has earned that honor. Sir Isaac averages 6.7 points per game, 3.5 rebounds and is shooting 48% from the field.
Last week Hoya center Josh Smith, second on the team in scoring with 11.4 points and leads the team with 6.1 rebounds, was named to the Kareem Abdul-Jabbar Center of the Year Award Watch List.  Smith is first in the BIG EAST in field goal percentage at 63.9 percent.
If the Hoya veterans–DSR, Trawick, Smith, Hopkins and Bowen–and freshmen continue to play as well as a team as they have in recent contests, they should prevail tonight. Copeland, Peak (starters) and reserve Paul White, have combined as some of the more formidable freshmen in the nation this year.  Add reserve point guard and local product (St. John's High School) Tre Campbell, who has played some fine minutes in his first season as a Hoya, and this is the deepest squad the Hoyas have had in the JTIII Era.  Georgetown's freshmen have combined to average 24.2 points, 10.1 rebounds, 4.0 assists and 2.1 steals per game.
Miscellany: Saturday's game with DePaul will be the 32nd meeting all-time between the teams. The Hoyas lead the series, 24-7, and have won 15 of the last 16 meetings and the last eight games in the Phone Booth. This Saturday night game is the first for the Hoyas at Verizon Center since March 2, 2013, a 64-51 win over Rutgers.