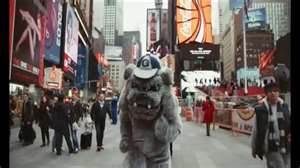 Tonight it begins for the Hoyas … the journey to a first Big East title since 2007.  It won't be easy but it starts with the team that all Hoya fans should have rooted for last night:  the Doug McDermott-less Creighton.  (Where is Doug now?)  This is the team that the Hoyas handled easily in the regular season, twice, at home and in Omaha ("somewhere in middle America", Counting Crows).  So far the script is being written in the Hoyas' favor, as they had struggled to put away DePaul on both occasions, the team that Creighton put away easily last night, 78-63, to advance to face the Hoyas.
The Hoyas should be playing loose.  Ending the season on a high note on Senior Day, with the emotional boost of Tyler Adams, who will be there as always on the sideline as trusted coach tonight, and a victory without their "star", DSR, the Hoyas should not play with the weight of the world on their shoulders.  I say that only because when the Hoyas play loose and with confidence, they can ball with the best in the land.  This is the team that one commentator suggested could mess with Kentucky in the Big Dance.  The team that many say could surprise in the ultimate tournament.
However, we Hoya fans know not to buy into any of that.  There is one thing that this team has to buy into, and that is to beat Creighton at the Garden tonight.  There is no looking to the semifinals of the BIG EAST, or to Selection Sunday.  It's all about beating Creighton for a third time this season and doing it with confidence, without errors, while making free throws and having fun in the process.
This is my theory after watching this team go down in the post-season too many times in the past 8 years:  From the perspective of a fan who has missed very few home games over the past decade/the JTIII Era and has watched nearly every away game on TV (if not in person), the Hoyas must play loose, think less and have fun.  A very simple formula and easy for me to say, right?  This team is led by a cerebral man, a Princeton grad who is by all objective signs serious, kind, low key, right?  A great leader and builder of men.  However, there are times when I feel these teams are sometimes too deep in thought (cerebral), too serious and often feeling that Weight of Being a Hoya.  Sticking to the topic of basketball only, that is, there is a very significant past and the highest standard that I am certain these players feel they must uphold.  Add to that a group of Georgetown student-athletes and all the seriousness that goes with that, Jesuit values, men and women for others etc!  So much to handle!  However, it really is about the Here & Now, the 2015 BIG EAST Tournament, a team of individuals working on a  dream. (Springsteen) The team of course should draw from tradition but sometimes it seems that the great Tradition of Georgetown Basketball can drag guys down.  I think the last time I remember seeing a Hoya team, with great talent of course, living in the moment, having fun and playing off the charts was the 2007 team–and look what happened.  We went all the way to Atlanta!  They played loose, didn't think too much and had a lot of fun.  Yes, smiles are more abundant in victory than in defeat but there was a magic in 2006 and 2007 that I think this current team can experience by following these
3 Simple Principles:  Play Loose, Think Less and Have Fun!
All the preparation has been done.  They have played Creighton twice and disposed of them easily, 76-61 at Verizon Center on January 3rd, and 67-40 in Omaha on January 31st.  Tonight won't be as easy.  The stakes are higher.  However, I'm a believer in these  Veterans and the Freshmen.  Play your game, Hoyas, and then move on.
LPP