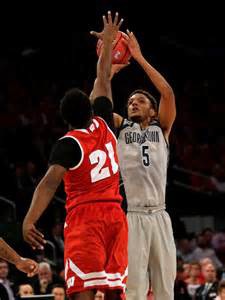 (Junior Reggie Cameron playing a Career Game at the Garden)
Third Time's a Charm?  After losing their first two games of the season by a total of 6 points, 2 in double OT to mid-major Radford and 4 to Maryland, the Hoyas finally broke through against the Wisconsin Badgers, a well-coached perennial contender in March under Coach Bo Ryan.  The Georgetown men's basketball team rolled into Madison Square Garden Friday for the 2K Classic smarting from its first 0-2 start since 1998-99.  With something to prove, the Hoyas came away with an impressive 71-61 win, earning a ticket on Sunday against defending national champion the Duke Blue Devils.  Duke won the second game of the evening, overpowering a talented Shaka-less VCU squad behind sophomore reserve guard Grayson Allen's 30 point career performance.
While the slow start to the season was not what the Hoyas had in mind, they now have an opportunity to get to .500 in this early season against Duke in the World's Most Famous Arena.  If a team can't get up for this, they can get up for nothing.  No doubt MSG will be packed with alumni from both schools, many of whom flock to New York City after receiving their well earned degrees.  It's an early season treat for the Hoyas and if they continue to play–and shoot–as they did on Friday against the Badgers, a win is very much in the realm of the possible despite Duke's #5 rank and Georgetown's ranking off the grid.
Georgetown-Wisconsin: Despite a strong performance from Wisconsin's Nigel Hayes, the Hoyas tamed the Badgers with suffocating D and timely shooting, especially from junior Reggie Cameron in what will be remembered as his Breakout Game, and sophomore Isaac Copeland, who continues to show his tremendous versatility and NBA potential.
The Hoyas held the Badgers to 30% shooting in the first half, and under 33% for the game. The Hoyas entered the half with a 27-22 lead, thanks in large part to Cameron, who hit 5-of-6 field goal attempts, including 4-of-4 from three-point land, and a career high with 14 points.  In the second half the Badgers got to within 2, 36-34 with 14:28 to go, but the Hoyas bounced  back and eventually led 52-40 on a three from Copeland. Wisconsin fought back to 58-50 after free throws from Ethan Happ with less than 6 minutes to play.  The  Hoyas scored six consecutive points on layups from sophomore guard L.J. Peak and Copeland and free throws from freshman C Jessie Govan to take their biggest lead, 64-50, with under 5 minutes to go. Georgetown connected on 9-of-10 free throws in the final 4:50 — including six in a row from Smith-Rivera — to seal its first victory of the season.  The bright spot for the Badgers was junior forward Nigel Hayes with 22 points on 7-of-16 shooting–without him, this would not have been a contest.
Overall Georgetown hit 42.9 percent of its field goals (21-of-49), 50 percent of its three-point field goals (9-of-18) and 83.3 percent of its free throws (20-of-24). Outrebounded 40-36, the Hoyas handed out 15 assists and committed 15 turnovers.
Even with senior leader DSR having an "off" game, missing 7 of 9 field goals and experiencing foul trouble in the second half for a second straight game, he finished with 13 points on 7 for 10 free throws.  The Hoyas had 4 players in double figures and 31 bench points, a good sign after 3 points from the bench (Govan) at Maryland. Copeland, Cameron, DSR and Govan scored in double figures and collectively, Georgetown shot 9-of-16 from 3.
LJ Peak continues his fine guard play, and the "Princeton Offense", a phrase that turns the stomach of many a Hoya Fan, continues to become less relevant as the 30-second shot clock will prevent old Ivy league slow ball games from surviving.  As I stated before, "The farther this team strays from that nauseatingly mischaracterized 'Princeton Offense', the greater this team will be."
Sophomore Paul White, suffering from a hip injury, did not return against Wisconsin and true point guard Tre Campbell fell ill during the Maryland game, but my prediction of a 72-67 Hoya victory over Wisconsin was not far off.
Prominent Players of the Game:  Reggie Cameron and Isaac Copeland  Cameron owned the first half, and Copeland the second.  Cameron, currently a reserve forward who arrived at the Hilltop with high expectations, scored all of his 14 points in the first half and made 4 of 5 three-pointers.  Copeland led Georgetown with 15 points, all in the second half, on 5-for-9 shooting with eight rebounds.  Freshman center Govan added 13 points, five rebounds and three assists.   Copeland and Govan are among nine freshmen and sophomores on the Hoya squad.
Georgetown-Duke Rivalry:  Hoya fans may remember not long ago when Georgetown took down a #1 17-0 Duke JJ Redick-Led team in January 2006 at Verizon Center when the Hoyas were unheralded.  This Duke team doesn't measure with that team, and this Hoya team may be a bit stronger than that special Hoya team.  Since then, the schools have maintained an on & off rivalry that is quite even.  While No. 3-ranked Duke defeated No. 13 Georgetown 76-67 on January 17, 2009, in Durham to improve to 16-1 on the season, the next season Georgetown returned the favor in DC.  NB:  This is the first meeting between the teams since then-No. 8 Georgetown blew put 7th-ranked Duke 89-77 on Jan. 30, 2010.  Hoya fans would be pleased to see the next game played in the post-season.
Why The Hoyas Will Beat Duke:
Pressure Off:  Now with the first W on the board, the Hoyas should be playing with Upset in mind and Confidence after playing consecutive  strong games against two well-coached Big Ten teams.  The Hoyas are playing at the Garden, their home away from home, and JTIII should be primed to notch yet another victory over Duke.
Versatility:  Even three games into the season, a pattern is starting to emerge.  This is not a Hoya team of even a few years ago without depth, but rather one where one of 8 or 9 players may emerge as the star on a given day. On Tuesday night at Maryland, freshman forward Marcus Derrickson scored 13 points and shot 3-of-5 from 3, while adding six rebounds. Yet he was scoreless Friday night. Senior center Bradley Hayes cored 16 on 8-of-13 shooting against the Terps; on Friday night, he scored just just four points on six shots.  On Friday, other Hoyas showed up Big, such as Cameron, who scored only six points total in Big East play last season.  While DSR and Peak didn't shoot well from the field, they did other important things for their team, including 12 of 16 free throws between them. With all of this talent, and Kaleb Johnson, Paul White and Tre Campbell, JTIII has a deep roster of talent that can step up every game.  Trey Mourning and Riyan Williams are also available to come off the bench to contribute for the Hoyas.
D Rediscovered:  Overall, Georgetown rediscovered its defensive intensity by limiting the national runners-up to 32 percent shooting in advancing to the Sunday's final.  The Hoyas maintain that defensive intensity to stop Duke, Allen, Thornton and Jefferson, among others.
Drive Early and Often and Get to the Line.  Get to the line more than Duke and make free throws and the Hoyas will win this game.
Prediction:  Hoyas contain Allen to under 2o points and win a squeaker, 75-74, against the defending national champion Duke Blue Devils.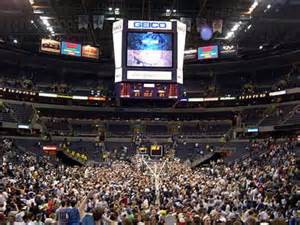 (2006 Upset at Verizon Center over #1, 17-0 Duke Blue Devils)