We are looking for answers, for reasons, for the rocky 12-8 start.  Hoya fans want to stay … try some passion tonight.  (Let Tracy Chapman start it off.)
It's two hours till tipoff and I'm feeling more philosophical than X and O oriented today.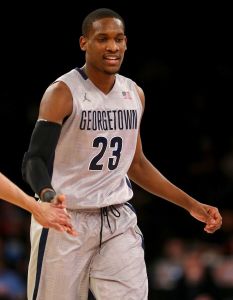 Here's a young man who played with his heart and not his head.  I'd like to see the Ghost of Aaron Bowen return to Verizon Center tonight.  Add to that the Sixth Man of 2006, Patrick Ewing, Jr., current assistant coach, another player who just got things done, made it happen.  Trawick, Monroe, we could go back decades but I'll stay in the 21st century for now.
The Georgetown Hoyas enter this game 1-2 in their past 3 games, a record which could have easily been 3-0.  A 50-55 loss to Villanova at home followed by a tremendous win at Xavier against perhaps the best team in the Big East with a let down against UConn at Storrs, another game that was every bit winnable as the Nova loss.
Every Hoya fan in the Blogosphere and Twittersphere is searching for answers.  Turnovers, poor shot selection, failure to play in and out (like they did at Xavier), get to the line and hit the boards (Xavier).  Where is Isaac, they ask?
We are Georgetown.  We find answers, sometimes.  We certainly ask a lot of questions and alumni are trained to do so from Day One.  We think a lot, perhaps too much and we have a coach who graduated from Princeton, another thinker.  We need … PASSION!  We need … HEART!  INSPIRATION!
Who will provide it?  Will it be the Assistant Coach on the bench who played his heart out for this team?  Will it be freshman Jessie Govan, in whom I see a big heart–let it out!  Will it be scrappy sharpshooter Tre Campbell?  Fiery LJ Peak?  Trey Mourning, we know he has heart, he showed it in 2 minutes at Xavier!  Give him 4 or 6 or 8 minutes, let's see how his heart multiples with time.
I know I ask more questions than I have answers but we are on the cusp of breaking into the Top 50 RPI and we beat Creighton, Butler, Providence and Xavier again and we're back in the discussion.
We all want to be on the inside not the outside looking in.
Let's Go Hoyas!  At home, with your fans, with the Stonewalls and kids admiring you, get it done tonight.  
Hoya Saxa Baby!