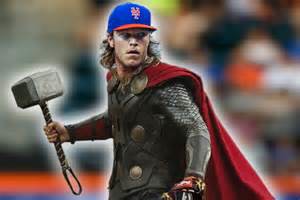 The Mets are right back in it.  The storylines are endless:  Captain David Wright delivering in  the clutch and putting an end to all questions about where he belongs.  Curtis Grandson continuing to be the most consistent player on the team.  Big bats and production from Wright and Grandy with a ton of heart.  Daniel Murphy hitless, no problem.  Everyone else on the Mets had at least one hit and were productive.  Juan Uribe, a player who would be starting on many teams,  returns from injury to pinch hit and delivers.  On a night when the last Mets catcher to play in a World Series–of course, Mike Piazza (2000)–threw out the first pitch and when New York and legend Billy Joel kicked off the festivities with the National Anthem and later sang his signature song, Piano Man, with the New York crowd, all leading to a 9-3 pummeling of the Royals, can you say "Mets Magic" "Amazins" and indeed, we Believe!
However, the one thread of the night that may have the longest lasting impact, especially if the Mets ultimately prevail in this World Series, is the first pitch of the game, which in baseball lore may someday become known only as "The Pitch".   
 (Escobar finding himself on his behind early in the game.)
There has been more print, TV and radio time used to discuss this one Pitch in the past 24 hours than the remainder of the game.  However you see it, excessive and aggressive to a brilliant strategic move, it is undeniable that the Mets last night got what they wanted and needed, desperately, a win.  I have to give huge props to Noah Syndergaard for approaching the game the way he did and even more importantly, adjusting his pitches as he did when he learned what his mates Matt Harvey and Jacob legroom learned before him:  the Royals can hit high velocity fastballs that are over the plate.
Just when I decide who this team's true Ace is, my thinking evolves.  Of course, Harvey was on that top rung for a while and in the NLCS, legroom, but now, after that performance last night, and his multipurpose role in the prior two series, there can be a very strong argument that Thor is moving up that rung.  And who knows, after tonight, it could be the rookie from Queens, Steven Matz!
Tonight's Matchup: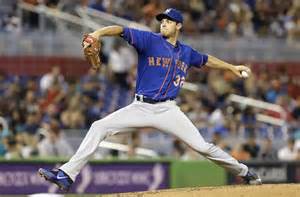 After last night what can we expect from homegrown Long Islander Steven Matz tonight as he makes his World Series debut for the team he grew up rooting for?  Left-handed Matz, with his large contingent of fans (perhaps more than all Royals fans in attendance) has the chance to do something at least as important as last night's win:  he will try to even the Series at two games apiece.
This will be Matz's third-postseason start for the Mets in the playoffs, who made just six regular-season starts due to injury.  While he may be no Syndergaard, he does have his weapons and the team has every confidence in him. Matz started Game 4 of the NLDS on Oct. 13th at home against the Dodgers even though he had not pitched at this level since Sept. 24 due to his back injury. He also pitched Game 4 of the NLCS against the Chicago Cubs and has a 3.72 ERA in his two outings.  Not bad for a rookie, and who knows what he can deliver at home in the World Series before his family, friends and fans?
Matz will face Royals starter Chris Young, once a Princeton college basketball player who stands at 6'10".  In his career against the Mets (including the postseason), Young has started four games with a 1-1 record and 5.24 E.R.A.  This year because of his performance in relief in Game 1 where he shut down the Mets bats in three shutout innings, he is 1-0 with an 1.00 ERA.  The good news for the Mets is that they have already faced Young and know what to expect.  Also, the Mets know Young well, as he played for the organization from 2011-12.  He is also pitching on three days' rest. Whether they will break him down early as they did Ventura is another story, but that should be the goal.
Why The Mets Will Take Game 4: It's a 1-2 proposition,
 Matz:  Steven Matz is ready for his Star Turn on the Big Stage.  He has already tasted the post-season in the NLDS and NLCS and fared well under the circumstances.  Whether he lasts 5 to 7 innings, the Mets' pen will be ready.  Ideally he would get to 7 but I won't count on that unless he manages to stay out of trouble.  He will need the help of the Mets
Bats:  Last night the Mets brought out the Offense of late July-late September and that is what they will need to even the score with the Royals.  Whether it's Grandy and Wright or Murphy and D'Arnaud, contribution from all bats will be essential because the Royals bats are not going AWOL.
Fans:  New York is a special place and this team is especially fired up by the crowd.  They want to leave it all of the field for them and expect to see a repeat performance tonight.
Prediction:  Mets 7, Royals 4