There is only one thing worse than a 14-inning epic Game 1 of the World Series, and that is, losing it, away, on a walkoff sac fly.  For the Mets, it wasn't the way they wanted to start the Series in Kauffman Stadium, and for fans of both teams, this was a nail biter that didn't end until the final sacrifice fly to score the winning run in the bottom of the 14th (Tied for the longest game in World Series history).
This game had everything, it seemed, except for a Daniel Murphy home run, but to his credit he continued his hitting streak in the post-season.  It even had a Fox broadcast failure when ""WTF"s were crowding Facebook, Twitter and smartphones throughout the MLB Faniverse.  That was a very strange event when viewers did not even miss a pitch as the game was stopped until the signal was restored.  Poor Harvey, standing on the mound to contemplate life for several minutes.  Eric Hosmer even pulled a Bill Buckner early in the game, and then later atoned for it with the winning sac fly.
Give credit to A-Rod who in the pre-game show, said he has the Mets in the Series "if they don't drop the ball".  Wow, was that prophetic!
This was about as even a game as I have seen all season, or in several seasons.  As to the Perennial Question, Bats vs Arms, last night it was neither.  It was Fielding.  Just as one cannot blame the basketball player who misses the final shot or free throw for "losing the game" for her team, one cannot blame Yoenis Cespedes for failing to field the ball in center field on the first pitch of the game to allow an in the park homer Alcides Escobar.  I don't know, but that was a clear play for the CF and give rookie Michael Conforto for being right there on the spot if he needed to be there to catch it, which he would have done if Yoenis had called him off. I'll bet this won't happen again, and I see Juan Lagares in CF, and Cespedes in left for the rest of the Series.
Well, in any case, the Mets not only tied the game but pulled ahead only to lose the lead in a most UnFamilia way:  yes, Jeurys after 3 months finally has a blown save.  Last time it was July 30th and he had to get the next one out of the way before Game 2 begins.  In the 9th, Alex Gordon hit a shot off of Familia to straightaway center field, where all the troubles began for the Mets last night.  Familia is human and so is Murphy, so Niese entered in the 10th, followed by Bartolo and there is one thing that Mets fans cannot be upset about last night (except for Clippard?):  Mets Pitching.
Starting Pitching:  Matt Harvey had six solid innings with a modified strategy (fewer fastballs for the Royals to feed on) as did his opponent, Edinson Volquez.  However, my heart goes out to Volquez for his great personal tragedy last night:  as he finished his Game 1 World Series start, he learned that his father had passed away in the Dominican Republic prior to the game.  Condolences to him and his family.
Mets Hitting:  Something became abundantly clear last night–Cuddyer should be finished for the season.  He has been a non-factor in the post-season and struck out three times last night.  With Johnson and Uribe back, the former NL batting champion needs to sit for the rest of the Series, and I hope the Manager of the Year, Terry Collins, see this as clearly.  Other than that, the team showed the ability to get on base after a slow start but left too many stranded.  Need to ratchet up that RISP percentage starting tonight.
Mets Prominent Player of Game 1:  I give it to Grandy for the pop in his bat (searing line drive HR) and a defensive play in the field that would be running on every highlights reel today had the Mets won the game.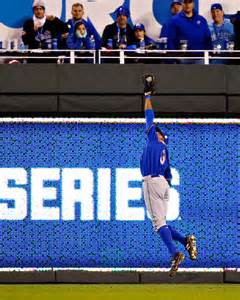 (ESPN)
With limited time today and with the desire to break this down play by play, let's get down to Brass Tacks:  The Mets must win Game 2.  Not to put all the pressure on the Man on the Mound who has grabbed the ball and succeeded in pressure situations in both Series, Ace Jacob deGrom, but deCalm must get through that critical first inning unscathed then settle into his groove.
Second, the Mets need to get to Cueto early and often.  This won't be easy, but if the Mets engage in another nip and tuck battle with K.C. at the K, it won't be good.  What they need to do is to take at least a 3 run lead by the 6th or 7th, and maintain it.  Prognosticators have spoken about the Mets weak middle relief.  With the exception of Clippard, I kind of fancy what Collins has put together, especially with Addison Reed, Niese and Colon.
Third, deGromination followed by Familia-ization. 
Fourth, a worthy DH:  Conforto, Uribe, those are my top 2. 
Fifth, Captain David Wright needs to play as if he wants to win this World Series, which I have no doubt he does but was Mr. Inconsistency last night, or only human.  To win a World Series, I submit, you can't play as if this is a series in mid-July that you may win or lose.  This is all or nothing and I didn't feel it from the Captain last night except for one great stab at third, matched by an error.
We are all exhausted and we will be back at it in less than 7 hours.  So for Mets Fans, Ya Gotta Believe, It Ain't Over till It's Over, and truly, we were destined to lose at least 1 game in this Series so why not have it be the first.
Prediction:  Game 2 to the Mets, 6-3.  Back to CitiField all tied up and ready to explode!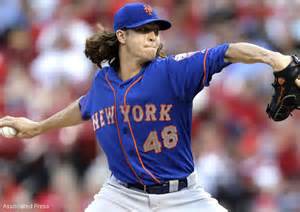 Please check this great article in Forbes by my friend and one of my favorite writers, David Seideman.
http://www.forbes.com/sites/davidseideman/2015/10/27/mania-for-mets-memorabilia-and-world-series-tickets-reaches-fever-pitch/