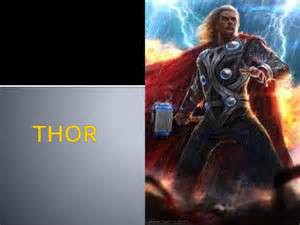 The Mets have been relying on SuperHeroes this season, particularly in this post-season.  While Daniel Murphy has not acquired any nickname other than "Murph" and "G.O.A.T." per the NLCS (Greatest of All Time, setting the MLB consecutive HRs in post-season games), the Pitching Staff has already used #s 1 and 2 in the Series, the Dark Knight followed by deGrom aka deCalm aka The Hair.  After dropping the first two games of  the Series at Kansas City, tonight, as Halloween weekend begins, rookie sensation Noah Syndergaard aka Thor is the next young Mets ace to take the mound.
The Mets Pitching Staff are well known for two things:  youth and velocity, as in from 94 and 95 to 100 mph fastballs.  As for velocity, Thor is King the Aces, so to speak, ranking at or near the top of the list of all MLB statisticians.  One problem with this scenario is that these guys are young pitchers who have been throwing hard all season (including #4 rookie Steven Matz), and both fortunately (and also unfortunately) for the team, organization and fans, the season has been long–it's almost November.  However, the downside of that is that arms tire and these SuperHeroes, beneath the costumes and masks, like all revelers this weekend, are only human.  One of the biggest questions is whether these arms can last through this Series to turn around an 0-2 deficit going into Game 3.
Tonight's matchup features two young, hard-throwing righties, Syndergaard and 24-year old Yordano Ventura, who is post-season tested and successful.  In the 2014 World Series, Ventura was dominant, when he posted a 1.46 ERA over two starts. This post-season, After a disappointing performance in the ALDS, Venture pitched into the sixth inning in both ALCS starts, including Kansas City's clinching Game 6 clincher.  This is the ninth career postseason start already for the 24-year-old Ventura, so he's used to the stage and the pressure.  However, Ventura has a 5.09 ERA and .858 opponents' OPS in four starts this postseason, but held Toronto to one run on four hits in 5 1/3 innings in the ALCS clincher.
Of 23-year old  Syndergaard's 233 pitches this postseason, nearly 10% (22) have been at 100 mph or more, according to MLB.com Gameday trackers. Thor hasn't allowed a home run yet in 13 innings this postseason, and Syndergaard allowed one home roughly every eight innings during his rookie season.
Syndergaard will become the third-youngest Met (behind Dwight Gooden in 1986 and Gary Gentry in 1969) to start a World Series game. While Syndergaard has pitched well in the post-season, this is a matchup that suggests a close game as in Game 1.  That 14-inning epic battle ended in a 5-4 Royals walkoff win, at the K.  Not to forget, the Mets had that game going into the 9th until Gordon hit a shot off of Familia for his first blown save since July 30th.  Tonight Mets fans hope that any close game is bolstered by the venue and its hometown fans, but what we really need is …
A Game That Isn't Close at All!  While the Mets Pitching Does Not Cease to be important, what is critical tonight is that the August and September Bats return, and the bats of the first four months of the season are retired forever.  Johnny Cueto may have thrown a gem to some, but the flip side is that the Mets bats laid an egg except for Lucas Duda, who managed 2 hits and drove in the only run in Game 2 for the Less Than Amazins that night.
Key Fact:  Lucas Duda is hitting .444 (4-for-9) in this World Series. The rest of his Mets teammates are hitting just .129 (9-for-70).
A total of ten teams in MLB history have worked out of the 0-2 hole, the 1986 Mets being one of them.  So to win their first title since 1986, these Mets are going to need to have history repeat itself, and reunite in the books with the Mets of 29 years ago, who were down 0-2 against the Red Sox then went on to win the Series.
The Royals are only half way there and have to win two more ballgames, similar to the position they were in when they took a 2-1 lead on the Giants in last year's World Series. In 2014, in Game 4 the Royals suffered an 11-4 thrubbing, and then Madison Bumgarner dominated Game 5 to swing the Series back in favor of the Giants. So the Royals too have history to contend with as well.
Tonight the Mets will have a little help from their friends.  From the last Met team to play in a World Series, former catcher Mike Piazza will throw out the first pitch.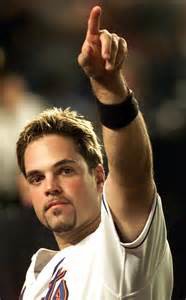 The King of Queens and all of New York and one of greatest songwriters of the past half century, Billy Joel will sing the National Anthem.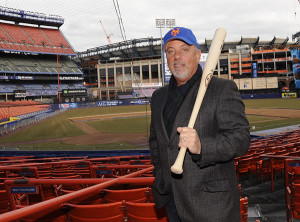 So tonight it's very simple, a Do or Die scenario (not to sound spooky), and the Mets Bats, all of them, have to get into the action.  Rallies would be nice, but a few shots out of the park to clear bases would be nice as well.  It would be great to see Cespedes bring back the magic on field as well as on the golf course, as is well documented.  Here's hoping that the Captain can lead the ship tonight and everyone can get involved in the act, not just Duda.
As several retired players and commentators offered before the first game of the series in response to the question, "What do you recommend that the players do at this point"?  To a person, they each said "have fun" or "enjoy yourself".  The Mets team in Kansas City appeared so down, with heads hanging and no smiles, even before the games were decided.  Let's hope that the players heed that advice and perhaps diehard fans Jerry Seinfeld and Chris Rock can loosen them up with a few jokes before the game.
Taking a page from Mr, Joel's Songbook, Mets need to #KeepTheFaith tonight (live at Shea):
Prediction:  Mets have to win tonight by any score or the season is over.  Even if they can take 2 at CitiField, the odds of winning 2 in K.C. have to be close to nil.