First, for the good news:  the New York Mets have a bright future, Exhibit A:
Last night's starter, rookie Steven Matz pitched a strong 5 innings and left the game in fine condition for relievers to finish it.  Matz is a reason to believe in the future.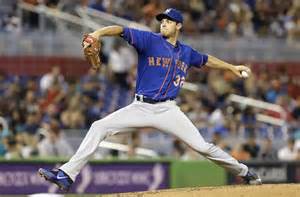 Last night, 22 year-old rookie Michael Conforto, a late addition to this 2015 World Series team, had his big league breakout game and hit two home runs, one a upper deck blast to Pepsi Porch.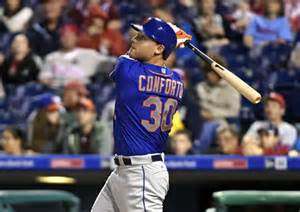 Now, for the sobering news:  The Mets play tonight with their backs to the wall after losing control of Game 4 with a combination of mental lapses, untimely walks (2 by Tyler Clippard) and errors (Daniel Murphy's pivotal error and Yoenis Cespedes sleeping on the basepath).  The Mets bats went silent again after blasting off in Game 3, and that was the essential story of Game 3.
At this time there is no reason or purpose to assess blame, but rather, the team has to go out on the field tonight and produce.
Then there is the Matchup:  the Game 1 starters return, Edinson Volquez for the Royals and Matt Harvey for the Mets.  Volquez has since Game 1 returned to the Dominican Republic for his father's funeral, which for any human being has a lasting effect much less a starter in what could be the deciding contest of the World Series.  Then there is Harvey, the Dark Knight, who had his troubles in Game 1, a game that the Mets were leading going into the 9th.  Harvey has well exceeded the inning limits (180) that became a great topic of controversy at the end of the season into the playoffs, and while all such talk is off the table for now, there is concern about Harvey's ability to deliver yet again in the post-season.
Less than a half hour before game time, this blogger is ready to sign off.  As a lifelong Mets fan (no secret), I hope with all my heart that they take this Series back to Kansas City.  First, there is a reason of pride:  who wants the Royals celebrating at CitiField?  (Only the Royals and their fans, of course).  Second, where is that team that took charge in late July through late September and said "Take note, the Mets are back!"  If that team digs deep and returns, there is a chance of the Mets forcing a Game 6.
How the Mets Win:
 No errors tonight–can't afford a single mishap.
Harvey pitches very well for at least 5 innings, at best 6.
Collins goes to Niese, Reed or even Robles, not Clippard.
At least 5-6 bats are fully alive and get multiple hits, from Granderson to Flores, with one or two long balls.
Familia comes in to finish for 3 outs.
That is the Formula.  Short of that, the Mets and their fans will wait until next year.
One good sign:  Straw is throwing the First Pitch!