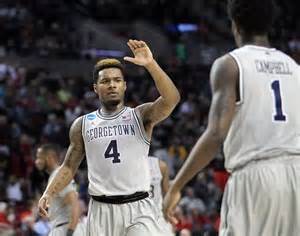 Junior leader DSR and Freshman Tre Campbell showing Hoya Swag against Eastern Washington U. Eagles.
Call it what you will.  Redemption.  Monkey off the back.  Relief.  There are multiple ways to express how Hoya Nation, students, fans, alumni, former student-athletes, Coach and Team, felt about the 74-64 victory over the practically pre-ordained latest double-digit seed to take down the #4 seed Georgetown Hoyas (22-10, 12-6 Big East).  From Portland Oregon at the Moda Center to Washington, D.C., and in cities and towns where Hoya fans reside in the U.S. and globally, the anxiety was palpable. Social media was all atwitter since Selection Sunday with prognosticators, bracketologists, even proctologists,  agnostics, and lawyers who dream of coaching (collectively and loosely, "Fans") about how the #4 seeded Hoyas would respond to its "Second Round" game with the #13 seed Eastern Washington Eagles (26-8, 14-4 Big Sky).  Of course, the Hoyas would be tested yet again and challenged to erase the recent past string (an NCAA tournament record) of 5 consecutive losses as a single digit seed to a double digit seed.  To further confound fans, EWU featured the highest D-I scorer in the nation, Tyler Harvey, son of an NCAA referee, and whom we were told was a carbon copy of the former college star Stephan Curry at Davidson (2008), when the unfortunate String of Post-Season Defeat began.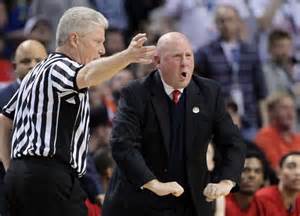 EWU Coach Jim Hayward won't be talking to Jim Rome anytime again soon, except perhaps to discuss EWU's loss to the Hoyas.
Add to that Hayward guaranteeing a win against the Hoyas and a 10:52 Eastern time start when East coast fans are normally settling down to a night's sleep and that creates a great deal of Agita in Hoya Nation.  Connected as we are through Facebook, Twitter and other media channels to some of the most loyal and devoted Hoya fans on this planet, I can guarantee that there would be no relief nor exhaling until the buzzer sounded with a Hoya victory.  In fact, when one former Hoya great posted that he was heading to bed when the Hoyas appeared to have a comfortable lead, several of his friends and followers practically begged him to stay awake.  And guess what? He did!
The Game:  In many respects, it was similar to many Hoya conference and non-conference games this season.  A slow start, Josh Smith getting 2 early fouls, a game of runs,  Mikael Hopkins getting into early foul trouble too, and a game largely controlled by Hoya stalwart guards DSR and Trawick. Then highly touted Tyler Harvey started showing his crazy shooting ability and as a result, EWU quickly opened a 15-10 lead on back-to-back threes by Harvey and senior guard Parker Kelley.
Then the game suddenly looked like nothing Hoya fans had seen this season, from 45 bench points as compared with 39 points from the starters, to the performance of players such as 7 foot true center junior Bradley Hayes, who had played an average of 3.4 minutes and 1.0 points per game this season, and entered the game with nine minutes to go to play "The Perfect Ten Minutes".  What did B.J. aka Bradley Hayes do in those 10 minutes, after filling in for Smith and Hopkins, characteristically foul-plagued early in the game?  Hayes came off the bench and played the final nine minutes of the first half and scored eight points on perfect 3 for 3 shooting from the field and 2 for 2 from the line, recorded 6 rebounds and 1 assist.  This feat set the Hoya Facebook and Twittersphere into a virtual frenzy, with comments from "Who is this?" (obviously not the most observant fan) to "Where Has Hayes Been All Season?"  The proper response to that is of course, "on the bench".  Query whether that is where he belongs.  As some suggest, Josh Smith may be the better center against bigger and slower teams but Hayes had what it took against EWU to propel his Hoya team into the future and to erase memories of the String of Post-Season Defeat.
At about the same time that Hayes entered the game, senior Aaron Bowen was called on as well. Bowen added great defense, swarming Harvey as well as contributing 8 points on 3 for 6 shooting from the field, 1 for 1 from the arc and 1 for 5 from the free throw line (he will improve against the Utes). Harvey and the Eagles simultaneously went cold from the field, connecting on only one of their last seven first-half attempts.  The Hoyas led 43-33 at the half, which was ultimately the final differential of the game (10 points).
Despite foul trouble, Mikael Hopkins too played 21 strong minutes and finished with 10 points, 9 rebounds, 2 blocks and was 8 for 8 from the foul line. The Georgetown defense, which has been among the nation's best all season, recorded three blocks and was consistently altering shots.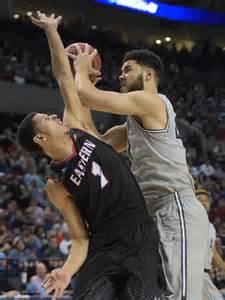 Bradley Hayes Manhandling Tyler Harvey 
If Hayes was the Undeniable Hero and ProminentPlayer of the Game, Trawick and DSR must share in that honor. Trawick did everything he could do to carry the Hoyas over the victory line and narrowly escaped a Flagrant 1 call.  Clearly, Harvey's paternal NCAA referee connections didn't help him when officials reviewed a Harvey travel followed by some contact with Trawick and a Harvey flop. Trawick finished with 10 points, 3 boards, 2 assists and 2 steals.  DSR scored 25, pulled down 8  rebounds and hit the free throws that sealed the victory.  The only DSR negative was sloppy second half play:  he had 6 turnovers of the Hoya total of 14, to the Eagles' 9 for the game.  Overall the Hoyas shot 52.1% from the field, 47.8% from the arc and 71.9% from the line, besting the Eagles in all but the latter category (86.7%).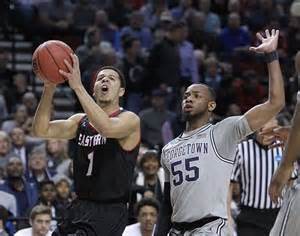 Trawick Doing What He Does:  Everything
After building a 23-point lead, as the second half progressed, the Hoyas came dangerously close to letting that sizable lead slip away.  In the second half, EWU threw a full court press that shook the Hoyas into turning the ball over leading to EWU conversions.  With 9 minutes remaining in the game, the Hoyas started to both slow down its offense and get sloppy, went cold from the field and EWU pulled within 7.   As the Hoyas stagnated, EWU regained its scoring touch and Harvey, despite good D from Georgetown, finished with 27 points on 9 for 20 shooting, 7 above his season average. Harvey got help from his teammates, especially freshman guard Sir Washington and junior forward Venky Jois ("Funky Joe"?), who fought for their tournament lives and came up short against the determined Hoyas.
Thankfully for Hoya Nation, Georgetown, led by DSR, was able to make enough free throws to preserve the victory (DSR missed 4 free throws that he normally sinks unconsciously).
If there are a few lessons to learn from this game, and a credit to Coach JTIII on the first,
1.  This Hoya Team is deep and talented enough to find different combinations to work against teams they haven's seen all season and may never play again in our lifetimes.  Peak, a starter, played limited minutes and Tre Campbell played an effective 28 minutes and showed why he is the Hoyas' current and future point guard.  Bradley Hayes, enough said above. Freshman Paul White also had a nice outing, his best in a while, on 4 for 5 and 2 for 3 shooting finishing with 10 points.
2.  This Hoya Team can and will win without Joshua Smith.  This is a player Hoya fans all root for and at times appears dominant, then disappears.  We should assume that the team cannot rely on Josh for any significant period of any game.  When he is present and his game is on, he can be the most dominant player on the floor. Last night Josh picked up 2 fouls in less than 4 minutes and was gone.  That is the norm.
3.  This Hoya Team cannot win by playing (or holding the ball for 35-second shot clock possessions) to protect large leads.  We have seen it this season and in prior seasons when the Hoyas build big leads and then, to borrow a from a commentator, "take their foot off the pedal."  They may get away with this against the Eagles of the Big Sky Conference, but won't against the PAC12's Utes or, I will save this for next post, any subsequent opponent. Two things generally happen when the Hoyas play tentatively on offense–they fall out of any offensive flow (compare first and second halves last night) and fail to score and commit sloppy turnovers.  Proof:  last night's game.  This is an easy fix.  Team, keep on playing.  With a 23 point lead, continue to score, and don't allow the opponent to close the gap!
Next Up:  The Hoyas Face #5 Seed Utah in the Round of 32  (Blog Entry Coming soon)  Utah, who played Stephen F. Austin immediately before the Georgetown-EWU game, survived a second-half run by SFA to prevail 57-50.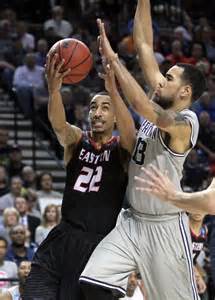 Freshman Paul White blocking EWU #22 shot.
LPP