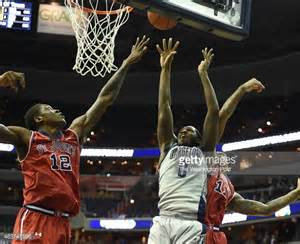 The Georgetown Hoyas (17-8, 9-5 Big East) continue to Peak and Surge at the right time.  No better time than mid-February to take advantage of the home court advantage after a win on the road in Newark vs. Seton Hall and before Saturday's (1/21/15) game with DePaul.
This was a perfect game to instruct young hoopsters on the Value of Teamwork and Sharing the Ball.  Generally speaking, at the high school level and below, it is still possible for an exceptional single player to take over and win championships.  While possibly once true in college ball, in my opinion today no team is going to ride one player to a championship.  The Hoyas may lack such a player but as a Team, this team has great potential.
Against the Johnnies, six Hoyas scored in double figures, including Mikael Hopkins off the bench, who may have read my locally flavored advice to him before the Seton Hall game?  ("FUHGEDDABOUD the criticism about your scoring. You are the best damn (excuse me) defender in the paint we have and we'll need you tonight. The points will come, but if you swat those shots …  and shut down the Pirates, no one cares if you score 4 or 6 or 8, but who knows? THINKABOUD scoring when you can because you can score, despite the criticism. The team may not count on your points but your points can help us win games … .")  Even if he isn't reading LPP :-), it's nice to see him showcase his talent at both ends of the court and for that reason I proudly present Mikael Hopkins with the ProminentPlay Game Ball.  Hopkins shot a perfect 5-5 from the field, 2 for 4 at the line, with 8 boards and 3 steals in 20 minutes.  It's not easy to experience shifting roles but there are times when coaches wisely make decisions for the good of the team.  At this point in the season, when freshman Isaac Copeland is coming on as a complete player for the Hoyas, Coach JTIII has the enviable position of having to decide whom to start on a deep and talented team.  While Copeland continued to demonstrate his talent, Mikael came off the bench to give his team fine minutes.
ProminentPlay of the Game:  While Mikael gets the game ball, Sir Isaac dazzled the crowd with this dunk.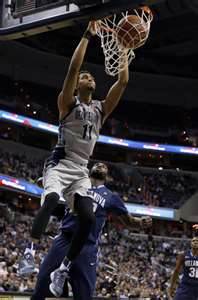 How many Hoya fans are dreaming of a Copeland-White-Peak-Campbell-Mourning team augmented by incoming center Jessie Govan and other recruits next year or the following?
Well, this Hoya fan says, "Don't dream of The Future. The Future is Now!"
How Balanced Was the Scoring and How Well Did the Team Share the Ball?  Copeland scored 12 points and grabbed a career-high 10 rebounds to lead a balanced Georgetown.  Along with Sir Isaac, Josh Smith, L.J. Peak and D'Vauntes Smith-Rivera (DSR), who each scored 12, Jabril Trawick added 11 points, finding the sweet spot from the arc where he was 3 for 5.  The Hoyas had only 9 turnovers and a total of 15 assists, 7 steals and 7 assists while dominating the boards, 46-31.  Copeland had 9 rebounds (along with 3 blocks), DSR had 10 and Hopkins, 8.  Freshman Paul White contributed 6 points, 4 rebounds and 2 assists in 15 minutes of play.
How They Did It:  Building up to a 33-23 halftime lead after Hopkins tied the game at 19-19, in the second half the Hoyas nailed their first seven shots behind the arc and led by 66-50 with 6:42 left to play.  They never looked back and did not let the Johnnie's back in.
Phil Greene IV led the Red Storm (17-9, 6-7) with 18 points and Sir'Dominic Pointer added 16.
Room for Improvement:  By no means was the game perfect. Against another team on another day, a 59% (16 of 27, Josh 2 for 7) free throw shooting just won't cut it.  Also, DSR, while trying to do it all as point guard and scorer, has seen his shooting percentage suffer this season;  on Tuesday night he was 3 for 11 from the field and 1 for 6 from the arc, but a cool 5 for 6 from the line, where he is generally unflappable. He added 6 assists and a block.
As my pre-game commentary noted, the Red Storm were the hot team entering this contest.  Aside from two games ('Nova at home and Seton Hall on the road) in the last few weeks, the Hoyas' were struggling to find consistency.  What Hoya team would show up?  The squad that overwhelmed Villanova or the one swept by Xavier and Providence; granted, each of those teams is talented but we expected to beat them at home.  The Wildcats simply slapped us around in Philly as we dominated them in our Phone Booth.
NextUp:  With DePaul coming to town on Saturday for an unusually late or "prime time" 8pm game, the Hoyas have yet another chance to tune up for a rematch with …. drum roll … the Johnnies at Madison Square Garden.  Some interesting scheduling there, Big East Conference, when the Hoyas play St. John's twice in the span of 11 days?  In any case, the Garden is very much a home away from home for the Hoyas and they should not be rattled by the venue or crowd.  Not to overlook the DePaul Blue Demons, who sit 7th in the conference standings today, are now 6-8 in conference play and whom the Hoyas beat by 6 points, 78-72, on the road on 1/13.  That win came immediately after the 3 point OT loss at Providence and prior to starting a mini-winning streak of 4.  While 12-15 for the season, DePaul will no doubt play for pride and improvement and cannot be overlooked.
L.