Game 1 Recap:
The Dark Knight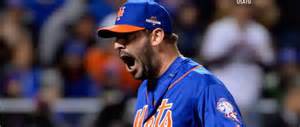 The Dark Knight lived up to all his hype and then some in dominating the highly touted young bats of the Chicago Cubs.  With all of his pitches working and hitting his spots with pinpoint accuracy, I could see Travis D'Arnaud's smile behind the mask marveling at the mastery of his pitcher.  With nine Ks and a 4-hitter through 7 2/3 innings in 48 degree weather, no one could have expected more from Matt Harvey in Game 1.  Harvey for at least one night made all fans forget about the drama that erupted near the end of the season with the issue of inning limits raised by agent Scott Boras, the man charged with protecting Harvey's career and unlimited earning potential.  The first run off Harvey was scored in an eventful 5th inning, an inning that started with one HBP by Harvey, who hit Rizzo on his right arm as he leaned into the plate at a high inside pitch.  
On the other hand, veteran of the post-season Jon Lester surrendered four runs and eight hits – two homers in 6 2-3 innings. Unfortunately for Lester, he had to face the red hot Daniel Murphy, who again blasted yet another ball out of the park to right field.  D'Arnaud had yet another reason to smile and boost Mets fans spirits when he stroked an HR to straightaway center field that actually hit and activated The Apple in center field.  (Daniel Murphy, after the game:  "I've never seen that before.")  After all of the talk of the Cubs young and lethal bats, it was the Mets with all of the pop in their bats in Game 1.  Aside from Kyle Schwarber, who scored the second and final run off Harvey with a blast to right center field with 2 outs in the 8th, the Cubs offense was over and ultimately quashed by saver Jeurys Familia, who continued his post-season dominance retiring 4 bats with one hit (Montero) for his third post-season save in 2015.
The final score in Game 1: Mets 4, Cubs 2.
The Mets took Game 1 for the reasons I highlighted yesterday in this blog.  First, after a torrid series agains the Cardinals, the Cubs Bats lost their pop in a New York Minute.  Also give credit too to Met defense and especially left fielder Yoenis Cespedes, who cut down a runner at the plate, and the continued stellar post-season performance of Curtis Granderson, with two RBIs for the Mets on timely hitting. Helped by Cespedes' strong throw, Harvey worked into the eighth for the first time in more than two months. Team defense by both Harvey, who threw out  after being hit by a ball blasted right back at him, and Murphy on  a game ending diving stop at 2B, also played a role in this victory.
The Bats were all Mets:  Granderson's RBI single on an 0-2 pitch from Lester put the Mets up 2-1 in the fifth, and d'Arnaud hit his Big Apple 431-foot drive in the sixth. Juan Lagares stole third against Lester in the seventh and scored on Granderson's sacrifice fly.
Game 2 Preview:
Terry Collins calls upon another superhero, Thor aka Noah Syndergaard, to square off against the Cubs ace, Jake Arrieta.  De facto NL Cy Young Award this season with spectacular numbers, Arrieta has only lost once on the road this year–five months ago. Mets fans think that he is due for another.  Arrieta tonight carries the weight of a city and Cubs fans trying to end a championship drought that dates to 1908, and their first league pennant in seven decades.  
In Arrieta, all of the hype matches the Kershaw-Greinke hype and as the Mets and their fans learned, both Dodger pitchers were only human.  Can the same be said of Arrieta who, including the postseason (2-0, 2.45 ERA), since a loss to the Phillies on July 25th Arrieta (2-0, 2.45 ERA) has compiled a 0.83 ERA over 15 overall starts?  On the road Arrieta has gone 12-0 with a 1.18 ERA in 16 starts since a loss at St. Louis on May 7.  That streak includes a performance at Citi Field on July 2nd when he allowed one run and struck out seven in eight innings of a 6-1 win. However, Mets fans know that July 2nd was B.C., Before Cespedes, and prior to D'Arnaud and Wright's return from DL, before Kelly Johnson and the call up of Michael Conforto.  Arrieta has not pitched against the New Mets in a playoff atmosphere in New York.  He will be tested.
Despite getting the win in Game 3 of the division series over the Cardinals, Arrieta had a rough outing outing as he gave up four runs in 5 2-3 innings of the 8-6 victory. As for Syndergaard, he is coming off of pitching  a dominant 7th inning in Los Angeles to seal Game 5 in the NLDS.  The rookie phenom Synnderggard was charged with a 6-1 loss at Chicago against Arrieta in his major league debut on May 12, which likely seems like a lifetime ago for the rookie.  In that game Syndergaard allowed three runs with six strikeouts and four walks in 5 1-3 innings.
Syndergaard pitches very well at Cit Field and should feel very comfortable there tonight;  he is 7-2 with a 2.46 ERA in 12 starts at home.  In the NLDS, in his first post-season game, Thor gave up three runs with nine strikeouts in 6 1-3 innings of a 5-2 defeat at Los Angeles in Game 2.  He followed that up with a dominant hitless inning of relief in Thursday's decisive 3-2 Game 5 victory in LA.
Why The Mets Will Win Game 2:
 Arrieta is Human:  I view tonight very much as Game 5 in the NLDS.  All the talk about Greinke was accurate but in the end, the Mets bats got to him and showed that statistics are just that–static numbers on a page that do not address every situation.  The Mets have red hot bats, especially Murphy and Granderson, with yet another option tonight–another rookie, Michael Conforto–as well as D'arnaud and Flores, who have been contributing all post-season.  Add to all of this carrying the weight of a city and its fans in his arm, while pitching in Gotham, I think he will break down.
Syndergaard is Pumped:  At home, where is so comfortable, following what was the highlight of his rookie season in LA, I expect Thor to come out with his usual heat and intensity.  If he slips at all or can't go late into the game, Colon will step in and provide the setup to Familia's final outs.
Murphy, Murphy, Murphy:  He's batting .400 over his last seven games against Chicago and was 2 for 6 versus Arrieta this year.
How The Cubs Could Steal Game 2:
 The Young Bats Come Alive:  If they can weather the cold air and the heat of Syndergaard's fast ball, at some point the Cubs bats will come alive.  Collins, by starting  Thor tonight, clearly has faith that he can shut down the bats to put the Mets up 2-0 before heading to Chicago. We can't expect a series when they won't break out, but it seems more likely that they will break out against Matz than Syndergaard or deGrom.
Arrieta Meets or Exceeds Expectations:   If this game were in Chicago, I would pick Arrieta over Syndergaard.  However, in New York he will need to pitch up to Cy Young Award standards and no less to beat the Mets tonight.
The X Factor:  Syndergaard will be facing Kyle Schwarber for the very first time.  Rookie vs Rookie, Schwarber is hitting .471 with six RBIs in six games.  His four HRs  tie a Cubs postseason record (Alex Gonzalez and Aramis Ramirez, 2003).  Thor vs. Schwarber is a matchup to watch, as is Arrieta vs. Murphy.
Prediction:  Mets, 5-3.
Thor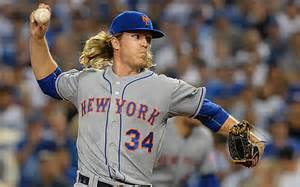 Fact not lost on Post-Season Negotiators:  Murphy, the 2014 All Star who set a career high this season with 14 homers, now has taken Kershaw (twice), Greinke and Lester deep, tagging $517 million worth of pitchers in this post-season.  Mets History:  By going deep in his third consecutive postseason game, he matched the Mets record set by Donn Clendenon in 1969, the year Clendenon was World Series MVP.
For your pleasure, the original Mets Fight Song!