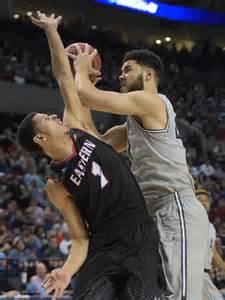 He's baaaaaack!
Tip off: 15 minutes.  This is my speed writing blog.
The Georgetown Hoyas went down twice at the hands of the Wildcats this season;  first, a very winnable 55-50 loss at the Phone Booth in Washington DC.  The second, a wholesale thumping by the Cats over the Hoyas last weekend on the streets of Philadelphia.
Well Hoyas, you're not in Philly anymore.  You are playing at your home away from home, Madison Square Garden, the site of many big wins throughout the years, in the conference tournament and in season.  This season you took down Big Ten Wisconsin (then ranked) and lost to the Blue Devils by 2.
Despite the odds last night, some commentators and fans gave you little chance against the lowly Blue Demons of DePaul, and you proved them wrong with a 70-53 first round victory.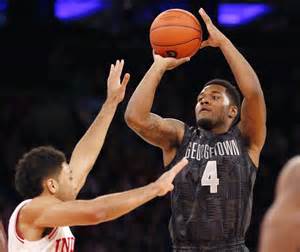 Four wins in four days, it's not impossible.  You have Bradley Hayes back and senior DSR carried you on his back in the second half last night.  Add to that some Peakness and Sir Isaac magic, plus freshmen magic, with Govan-Derrickson-Johnson, you never know.
Do:
 Take good shots.
Drive to the hoop early and often, get fouled and get to the line, more than the Wildcats.
Hit the Boards and get second shots.
Play defense, please.
Don't:
 Turnover the ball.
Get into early foul trouble.
Let the guards get into a groove aka Defense Please.
Last night venerable Rutherford B. Hayes stepped back into the starting lineup after a 6-game absence and losing streak and lifted you up.
Who will lift you up today?  Will everyone participate.
Who the Eff is #10?
The Cats may be the Archies, but We Are Georgetown.  Blue and Gray, forever.  The season ain't over.  Till it's over.  Let the Fat Lady Sing.  Whatever it Takes.  New York City Magic, where Patrick Ewing spent his illustrious career as a Knick.
We have the faith.