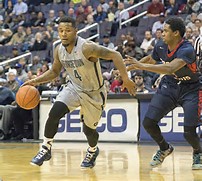 This is a game Hoya fans have been waiting for.  It was not perfect by any measure but was what each Big East game has come to be.  A battle, relentless, bodies strewn on the court chasing loose balls.  Several fouls against the Hoyas left uncalled.  The Hoyas and their Coach JTIII and staff have to be proud about what they accomplished in enemy territory to what a team needs to do on the road in the Big East–get the W.  The much improved Hoyas played as a unit with passion, confidence and leadership, starting with the junior, DSR, who has demonstrated that he has much more to prove as a Hoya and endeavors to lead his team to greater success this season, one game at a time.
DSR led all scorers on Tuesday night with 25 points, including some timely and effective free throw shooting at the end of the game (6 of 8 in the final minute), when DePaul's only chance was to foul the Hoyas and hope their ineptitude at the line in the Providence contest would carry over to Chicago.  DSR is finding his game as the 2 to 1 guard and relocating his touch, going 6 for 14 from the field, 3 for 6 from the arc and 10 for 13 from the line.
No chance of a repeat Providence performance last night as the Hoyas were red hot at the line, shooting a team 81.3%.  The Hoyas finished 50% from the field and 40% from the 3-point line, that and good D will get you some wins in the Big East.  Even Mikael Hopkins, who missed 6 of 6 at the line in Providence, hit a critical 5 of 6  before he fouled out, showing a beautiful stroke that should lead him through the rest of the season.  🙂  To say the game was won at the line (as some suggest Providence was lost at the line) is a fair statement.
There were many factors that distinguished this game from prior contests this season:
1.  Strong Team Play and Decisiveness:  Whether in the fast-paced, high percentage shooting first half or in the second half when the Hoyas were forced to battle back after slipping behind, this game should be noted for strong leadership, a team effort and good decision-making and handling of the rock (only 9 turnovers).  Unusual for the Hoyas, the team surged in the second half to come from behind, lead by solid team play, strong D, steals and conversions, as well as a stellar team performance at the free throw line. There was little to none of that hesitation and lost look by players of 'what to do with the ball' that marred the ugly loss at Providence and other games where the Hoyas either couldn't hold on or rally for the lead despite the talent on the floor. Against DePaul the Hoya contingent of talent, current and future, was on full display and working well together.
2.  Solid Upperclass Leadership:  Along with DSR, senior Jabril Trawick led the Hoyas to its 11th win of the season, now 3-2 on the Big East with that first critical road win on its resume.  Trawick had 11 points and scored all of those points in the first half, and the   Hoyas led at the halftime break, 44-39.  Senior Josh Smith contributed 8 points, 4 boards, 3 assists and 3 blocks, all in 24 minutes, on high percentage shooting. Senior "Tailor Made for Highlight Reel AB" Aaron Bowen, again played a pivotal and effective game in only 13 minutes, coming off the bench to add 6 points on 3 for 4 shooting with 3 rebounds and a spectacular winding move to the hoop.  Hopkins excelled at the line, going 5 for 6, finishing with 7 points, 2 boards, 2 assists, 2 steals and a block in 26 minutes.
3.  Free Throws, Free Throws, Free Throws ("Because They're Free"):  One of the most inconsistent aspects of the Hoyas game has been from the free throw line.  For one night in Chicago the Hoyas fixed that problem and converted on 26 of 32 from the line.  At 81.3%, still likely not as good as their final academic exam scores.
4.  Bring On the Freshmen!:  What makes this Hoya team so exciting and sets them apart from recent teams is this crop of freshmen who all can and do offer something special to this team.  While the Hoyas were playing in Paul White's hometown, near his Whitney Young High School and family supporters, tonight's ProminentPlay Freshman Performance Award goes to Isaac, that is "Sir Issac" Copeland.  All frosh contributed, from LJ Peak, who finished with 8 points on solid shooting, 3 rebounds, a block and a steal, to Tre Cambell, draining a 3 when it counted, to White.  Last night fans witnesses the true promise of Sir Isaac and flashes of why he was the most highly regarded freshman recruit among this special group.  Eight points on 2 for 3 from the field, 1 for 2 from 3, and 3 for 3 from the line, 4 rebounds, 2 blocks in 20 minutes as a reserve.  We haven't even seen the likes of Mr. Trey "I love leaves and the change of seasons" Mourning and whether that occurs this season or next, we are looking forward to seeing more from Trey with a "y".  With these freshmen, we can be surprised any night depending on which first year Hoya steps up.  Sir Isaac caught our eye last night!
5.  DePaul No Longer a Doormat?:  The Hoyas accomplished all of this against a worthy opponent.  DePaul is a talented team, once the doormat or in the bottom 4 of the former massive Big East, who may or may not stumble after this loss.  DePaul was led by junior forward Myke Henry, who could not miss early on and finished with 17 points.  Talented sophomore guard Billy Garrett Jr. had 16 points and was virtually flawless at the line and two other Blue Demon playes finished in double figures–Jamee Crockett with 12, and Aaron Simpson with 11.  After Georgetown took a 5-point lead to the break, the Blue Demons used a 14-5 second-half run to fuel a 49-47 lead.  With 12 lead changes and 12 ties, the Hoyas finally grabbed the momentum with some aggressive play, steals and conversions and after making seven straight free throws and a DSR layup and jumper, led 70-60 with 3:42 left. The rest of the game was a battle between the Blue Demon outside shooting and Hoya fight, might and free throws, with the Hoyas not allowing this one to slip from their grasp despite DePaul getting as close as 4 in the final few minutes.
This is a great game and confidence builder to lead into the Hoyas' weekend homestand, facing Butler (currently 4th in the Big East standings ahead of the Hoyas) at 5pm on Saturday 1/17 and then hosting #5 in the land Villanova on Monday, January 19th, 9pm at the Phone Booth.  If the Hoyas are ready to dig in and make a move in the conference and among the nation's powerhouses, this would be an opportune time, at home, with a Gray Out on Saturday followed by a contest against its currently most detested opponent in the Big East, Villanova, on Monday night.  When the Big East bid adieu to 'Cuse and Notre Dame, that left 'Nova as the rival that Hoya fans should love to hate and to unseat on the top of the Big East standings.
Hoya Saxa!