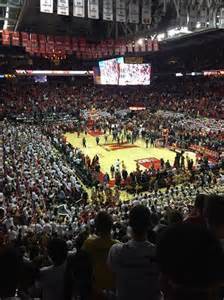 This time the Turtle won the Race.  With experience on its side, and a sellout crowd of 17,950 excited fans at its on-campus venue, Xfinity Center, the Terps prevailed 75-71 in the first meaningful game between Georgetown and Maryland in years. In fact, it was the first time Maryland had played Georgetown in College Park since the Nixon administration, decades before the current students were born.  In suffering their second loss of the season in as many contests, the Hoyas can hold their heads high while thinking of what could have been.  They played infinitely better than their poor performance in the season home opener double OT loss to mid-major Radford University last weekend.
While the Hoyas came out both prepared and inspired, something lacking in the Radford game, and took a 7-0 lead to start the first half, there was never a question that the Terps would find answers and they quickly did.  With returnees sophomore clutch guard Melo Trimble, and transfer senior forward Rasheed Suliamon, who was dismissed from Duke under a cloud of accusations (Coach K rarely dismisses his players), the Terps prevailed in a close one in the final minutes, with the winning bucket coming from the Duke transfer, former enemy now wearing the Terps uniform. (http://espn.go.com/mens-college-basketball/story/_/id/12249502/duke-blue-devils-dismiss-junior-rasheed-sulaimon)
The one word shared by the schools and media alike about this matchup was "excitement".  Tickets on the secondary market were going for nearly $150. Students began lining up outside Xfinity Center five hours before the game.  Whether it was the excitement of seeing an old friend–or even a foe– where the heart grew a bit fonder or more soft over the years, JTIII and Mark Turgeon are friends with none of the animosity once shared by former coaches John Thompson Jr. and Lefty Driesell.  Most DMV hoops fans and the print and television media seemed genuinely excited that this former rivalry has been resuscitated and the game didn't disappoint.  "People were engaged. The building had a different feel to it on Tuesday night than it ordinarily does even for nominally big games. This was a louder, more boisterous Maryland crowd than at any non-Duke game in at least the last four seasons, with students filling out the arena's vertical wall two hours before a 9:15 p.m. tip on a Tuesday" (Maryland blogger Alex Kirschner).  Legends from the Terps program's past — Len Elmore, Walt Williams, Gary Williams, Joe Smith — all attended and provided an air of nostalgia. Members from the last four teams that beat Georgetown were honored on the court, receiving an ovation before returning to their seats.
For an early season game–second for each team to be exact–both teams played quite well and evenly through much of the game.  The Hoyas started hot and Georgetown scored the game's first 7 points.  For the Terps, except for the Duke transfer, no one really got going.  Sulaimon had  7 points and 6 assists on 3-of-3 shooting over the first 20 minutes. Tied 33 all at the half, the Hoyas attempted to close it out in the second half, to no avail.  With the Hoyas ahead much of the half, down in the final minutes, the Terps fought back from a 7-point second-half deficit with 5:48 to go to win in dramatic fashion in front of a raucous crowd that featured both Maryland and Georgetown hoops legends, and saw former Terps star, now in the NBA, Greivus Vasquez show up straight from the Verizon Center, to cheer on his former team in the final minutes.
Sulaimon drained a go-ahead 3-pointer with the game tied at 68 with 1:18 left to put Maryland ahead for good.  Trimble iced the game at the foul line in the final moments.  Trimble finished with 24 points to lead Maryland, and Sulaimon finished with 10 points and and 7 assists.  Senior forward Jake Layman struggled for much of the night (credit the Hoya defense as well) but hit a few critical shots late and  Layman scored 15 for the Terps.
While the Terps are now 2-0 on the season, holding onto that #3 pre-season ranking at least for now, the Hoyas fall to 0-2 with Wisconsin and likely Duke next up at Madison Square Garden.  While that sounds like a potential 0-4 start, that fate is ultimately in the Hoyas' control.  If they play as well as they did against Maryland, they should have a chance to prevail both against Wisconsin, last year's national championship finalist and then the winner of VCU and Duke, last season's national champion.  How is that for some fearless scheduling?!
To respond to some of the questions I posed in advance of this historic contest:

 Bradley Hayes vs. Diamond Stone:  Hayes won this battle but the Terps won the war because they have other big men, including 7'1″ Michal Cekovsky from Slovakia, who played the role.  Blue-chip freshman Stone found himself sitting on the bench early in the second half with three fouls and just one rebound. He is a work in progress and Hayes is a senior looking to establish himself this season in a way that both Mikael Hopkins and Josh Smith were never capable of doing.  Hayes finished the game with 16 points and 8 boards on 8-13 shooting.  While we'd like to see Bradley get tougher on D, this is a great start to the season for this inexperienced senior center.
Will DSR Lead from the Outset?  DSR scored the first points of the game when he hit a trey and established himself from the outset with a fine performance but not as fine as Trimble.  DSR finished with 14 points on 50% shooting and added 4 assists  but it was no mean a dominating performance.  Still, DSR is on the right path as he stepped it up from the Radford debacle and as he and his team heads to NYC and the World's Most Famous Arena.
Who Else Will Step Up for the Hoyas?  Sophomore forward Paul White was out yet again and Hoya fans are missing him.  However, flashes of brilliance came from the sophomores Isaac Copeland and LJ Peak.  Peak continues to show that spark and energy in the open court we first saw in his freshman campaign and is best when left to slash to the hoop and finished with 12 points, including 6 for 7 from the free throw line. Peak also had the unenviable duty of guarding Trimble for much of the game.  Copeland continues to look like the promising complete player we saw last season and finished with 13 points on 6 for 9 shooting from the field and 1 for 2 from 3 point range, 6 boards and 5 assists.    In addition, Hoya and all hoops fans were treated to the special talents of freshman Marcus Derrickson, who can shoot the ball as well as anyone on the team based on Tuesday night's performance.  I predict a Big East First Team player this season for Derrickson if he gets the minutes he deserves.
Will Trey Mourning Play and Be a Factor?  Trey played only four minutes and that is never enough to establish a rhythm.  We will have to wait for another day, another game.  Junior Reggie Cameron, sophomore Tre Campbell and freshman Caleb Johnson all got some bench minutes, with little to show.  From the bench, only freshman Jessie Govan, playing 11 minutes, had 3 points and 5 fouls.
The Coaching Matchup:  JTIII vs. Turgeon?  I'd say this was a toss up, leaning towards the winning coach, Turgeon.  The win had less to do with a coaching advantage or disadvantage and more to do with the play of the team, such as the Hoyas 12 turnovers (to Maryland's 9) and failure to get to the foul line (9 for 12 as compared with the Terps, 23-32).
For this game at least, give it up for the Turtle.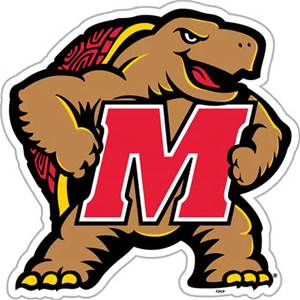 Reasons Why Hoya Fans Should Not Be Concerned About the 0-2 Start and Should Be Excited About this Season:
 Bradley Hayes: After Hayes's dominating performance against Radford, one wondered if he could bring that game against the big boys.  Well, he passed that test.  Maryland struggled to contain Hayes, who elbowed his way through Maryland's front court for much of the night. Hayes was the reason the Hoyas were in this game.
Marcus Derrickson: Based the early returns, including Tuesday night's 75-71 loss to third-ranked Maryland, expect to see plenty of freshman Derrickson. The 6-foot-7 forward hardly performed like a freshman in just the second game of his college career, unaffected by the raucous opposing crowd of 17,950 at Xfinity Center.  Derrickson got more time than more experienced teammates and showed that the accolades coming from his high school, career–a two-time All-Met who spent three years at Paul VI Catholic competing in the Washington Catholic Athletic Conference–were well deserved.  Calmly sinking a pair of free throws with 1:34 to go, Derrickson tied the game at 68. He finished with 13 points, six rebounds and a team-high two blocks. In the first half, Derrickson hit two of three 3-pointers.  Can you say Derrickson Has Game?!
A Balanced Attack:  Georgetown posted five players in double figures, including 16 points from 7-foot center Hayes, who helped the Hoyas hold a 36-28 rebound advantage.
LJ Peak and Isaac Copeland:  Expect more solid play from this Dynamic Sophomore Duo, and let's hope to welcome back soph forward Paul White soon!
While some may have billed this game as a Big East-Big Ten matchup, it was oh so much more than that.  It was Georgetown vs Maryland, and if you felt the hype in and outside of the Beltway, including on the Hilltop and in College Park, you know it had nothing to do with the conferences and everything to do with this fascinating local rivalry of nationally renowned teams renewed in 2015.  In fact, this game may have meant more to the Terps, but a win would have had more impact for the Hoyas.
See you at Verizon Center in 2016, and Hoya Ticket Office, please do your job–you know what I mean!