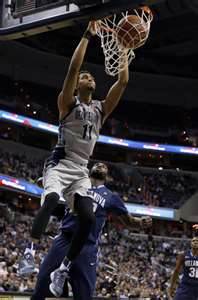 It's time to get delusional because I spend way too much time being rational and realistic.  So this is the post where I get to play "Jeane Dixon" (does anyone remember her?  Or even "Madam Marie" (more of you know her, I'll bet, she tells fortunes better than the NJ cops do in Springsteen's Asbury Park, NJ).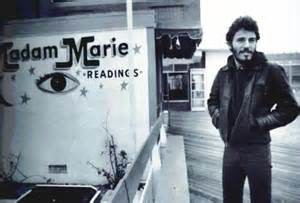 The Hoyas are tired of this roller coaster season.  Down to Radford, Up vs Xavier.  Down to  Maryland, Up vs Wisconsin.  At this point the Hoyas are nearing .500 in their season and that is the Danger Zone.  No one likes it there.  It virtually assures no invitation to the Big Dance and even threatens elimination from the NIT.  So starting tonight the Georgetown Hoyas will turn it up a la Van Morrison ("Turn it up, Radio")  and find exalted and hallowed ground again.
I will assume that last night JT3 and the coaching staff, including Assistant Patrick Ewing, Jr. (former Sixth Man great and Final Four player in Atlanta), decided it would show this team how to be tough and mean and played tapes from the mid '80s and '90s (the 20th century, that is).  The team watched the master Defender, Gene Smith, take it to his man and everyone else's man!  Govan and Hayes watched the Twin Towers dominate the paint and LJ Peak and Tre Campbell watched AI play tricks on his defenders.  Isaac and Reggie (Cameron) saw Reggie Williams and Sleepy Floyd shoot lights out and since there are too many greats to mention from that era, you get the idea.
Tonight the Hoyas catch a break and the 7-17 winless in the Big East St. John Red Storm (I had to catch myself there as "Redmen" still rolls off the tongue–take note, Redskins–change your name and it will never be forgotten) roll into Verizon Center with nothing to lose, but another game that is.  The Hoyas, on the other hand, must believe that this is the game that will define the remaining 7 regular season/conference games.
So, how do the Hoyas take 7 straight en route to a 20-11 record come conference tournament time: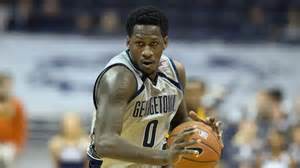 Scrap the "Princeton Offense" and play the Game of Basketball to win.  You have all done it before–before you came to the Hilltop and even on the Hilltop–but that slow, 'too many passes' (and sloppy) offense is beating you down.  LJ, see a hole or have a weak defender, take him!  DSR, take that 3 if you're wide open but better yet get wide open with an inside pass and an assist back to you.
Go to the Hoop on at Least 50% of Possessions and Get Fouled:  You are losing games in every which way, including foul shot disparities, so do something about it.  Get to the line, get fouled and make them.  Make them like Jessie Govan. 
Bradley and Jessie, I know the refs have screwed you all year.  That may not change but Stop the Stupid Fouls.  And Coach, get Trey and Kaleb off the bench early and often.  Spread the fouls early or better yet, avoid them.
Hit the Boards like you did against Xavier …
Isaac, continue the strong play from the Rock and Reggie, get hot again or just grab boards–you do that well too.
Press early and often.
Let's Go Hoyas!  Take this one en route to a beautiful ending to this conference season.
Be proud as you are one of a very few that get to wear this uniform.  Wear it well and proudly, like many others have done before you … 

Prediction:  Final Score Hoyas 87, Johnnies 70