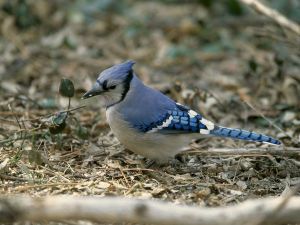 This Blue Jay appears like a friendly enough creature.  The question is:  how will the host Creighton Blue Jays treat the Georgetown Hoyas when they arrive in Omaha tonight?  And how will the Georgetown Hoyas, who have started the season at best on shaky ground, perform in their second conference road game of the season?
True, the Hoyas have rebounded slightly from the season nadir, a loss at home to UNC–Asheville, a loss that stunned fans as much as its opening season double overtime loss to Radford University, although in some respects the loss to UNC-A was much worse as the Hoyas were not ever really in that game.
Credit the Hoyas for bouncing back with two consecutive opening season conference victories, the first on the road against the Big East perennial bottom dweller DePaul Blue Demons, a then "must win" game for every reason including pride and fan retention.
Next up, on Saturday, January 2nd, the Hoyas added another conference win at Verizon Center against another lower-ranked Big East team though slightly better than DePaul, the Marquette Golden Eagles.  The Hoyas played perhaps their best half of the season in the first half against Marquette before a sizable crown on the day after New Year's.  There was every reason to be excited about the "New Look 2016 Hoyas" after the first half, when they scored at ease and the freshmen started to step up, the Govan-Derrickson-Johnson combination, who are showing their prowess early in the season.
However, after the 49-point first half vs. Marquette, that "Hoya Thing" happened again when the team went scoreless for several minutes and started to give up the ball like clockwork (16 turnovers to Marquette's 10)–another pass to the middle/top of the key, another steal and another Marquette basket off a turnover until the fans in the arena (the ones in blue and gray) felt their nerves react and looked at the game clock with trepidation as happened when these Hoya Droughts and Meltdowns happen.
(DSR appears at the right time)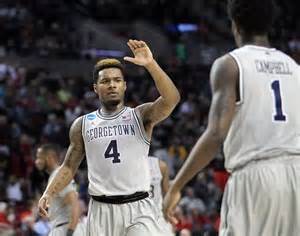 DSR ultimately scored 15 points, long stuck at 3 points for the game, when he scored the Hoyas'  final 12 points in the last 2:09 of the game and handed out a career-high eight assists.
Four other Georgetown players scored in double figures in the win over Marquette:  freshman forward Marcus Derrickson scored a career-high 16 points; sophomore forward Isaac Copeland added 11 points, seven rebounds and three assists; sophomore guard LJ Peak had 10 points and four rebounds and freshman center Jessie Govan scored 11 points and had five rebounds and four blocked shots.
Leave it to senior captain DSR to take control of the game when it mattered (and I ask, why not 10 minutes prior?) to lead his team back from meltdown to victory,  80-70 .  As the first half was strong, the second half was shaky and in order for the Hoyas to beat the top teams in the Big East–Xavier, Providence, Butler and Villanova at present–the team must string together two strong halves and not wait for a Savior to appear in the final minutes.
So, what will it be tonight:  will the 9-5 Georgetown Hoyas play team ball for 40 minutes and beat the Blue Jays as they should, or will the offense stagnate again at the wrong time?  We soon will know.  Tipoff at Century Link Center in Omaha, Neb. is slated for 9 p.m. (ET).The game will be shown live on FOX Sports 1.
Why the Hoyas Will Win:
 DSR Leadership:  DSR leads the team in scoring with 15.0 points per game and with 4.1 assists per game. He also averages 3.1 rebounds and 1.7 steals per game. DSR steps in when needed but can't carry this team on his shoulders through the season.  Just behind him, sophomore Copeland averages 12.3 ppg and 5.1 rpg, while senior center Bradley Hayes is fourth on the team in scoring, with 9.5 ppg and leads the team with 7.9 rebounds per game.  Peak, who has scored in double figures in four-straight games, is third on the team in scoring (10.1 ppt and rpg), while Derrickson is averaging 8.0 ppg and 4.4 rpg.
2.  Hoyas Bench:  The bench averages 21.2 points, 14.3 rebounds and 4.1 assists per game, led by once almost forgotten now ever present junior forward Reggie Cameron, who averages 6.3 points and 2.4 rebounds per game. Georgetown's freshman class — Derrickson, Govan and forward Kaleb Johnson– has combined to average 17.5 points, 10.8 rebounds and 2.9 assists per game.  They should only improve.  This is all largely without Paul White, the sophomore forward who has been injured and whom we expected to play a huge role this season.
3.  History/Trending:  The game against Creighton will be the 7th all-time meeting between the teams, with Georgetown leading 4-2. The Hoyas have won the last four games, including three games during the 2014-15 season.
Why the Hoyas Could Lose:  I don't think they will but they are playing on the road, where they haven't played so poorly.  Creighton enters the game with a 10-5 overall record and a 1-1 mark in conference following an 85-71 loss to Villanova on Saturday night. Junior guard Mo Watson leads the team in scoring with 12.9 ppg and in assists, with 6.3 per game, and the Bluejays have four players scoring in double figures and are averaging 85.8 points per game. Senior center Geoffrey Groselle (12.3 ppg and 6.7 rpg),  junior forward Cole Huff (11.7 ppg) and junior guard Isaiah Zierden (11.3 ppg and has a team-high 37 3-pointers).
Prediction:  Hoyas 82, Creighton 79