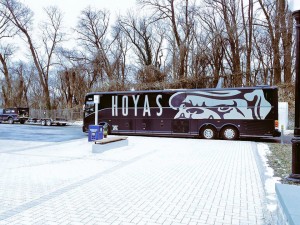 The Georgetown men's basketball bus pulled out of the McDonough parking lot before the historic snowstorm began, Jonas, Snowzilla, Snowmageddon II, whatever you prefer.  Snowbound Hoya fans on the East Coast couldn't be happier as they can follow their surging Hoyas, the NCAA on CBS, at noon today.  The question is:  which Hoya team will show up, the team that surprised the Xavier Musketeers on Tuesday night to take sole possession of second place in the Big East Conference or the team that has struggled through much of the season?
As a partisan of course, I'm pulling for the finely tuned high octane offense and board-dominating Hoyas who quieted the crowd at the Cintas Center earlier this week.  The Hoyas, with few exceptions (Creighton) have played well on the road this year and I don't see why today should be any exception.
This may not be the dominating Huskie team of years past but for a while Kevin Ollie's team spent some time in the Top 20 until they started to slip and are now on the outside looking in, much like the Hoyas.  A 13-5 record in the AAC is not a record to brag about, and they have lost to the only ranked teams they have played:  a 70-73 loss to then #10 ranked Gonzaga and a 66-76 to then #6 ranked Maryland.  They also lost 76-79 to other former Big East foe Syracuse Orange.  UConn's other two losses were in conference to Temple (53-55) and Tulsa (51-60).  At the same time, this is a rivalry with a past and the mere sight of Georgetown jerseys rile up many teams and opposing fans  who have no sense of the Hoyas current record but rather, what they have achieved at their team's expense in the past.
The Huskies just signed 5 star 7-foot center Zach Brown so they are doing something right. He's the first Class of 2017 player to pledge to Kevin Ollie on Wednesday.  Brown selected UConn over Miami, NC State and Georgia.  A national top 25 recruit for the Class of 2017, the Brown recruit continues Ollie's recent trend of landing top prospects. UConn's Class of 2016 roundup is considered one of the best in the nation by various recruiting outlets, headed by McDonald's All-American Alterique Gilbert, a point guard out of Georgia; Vance Jackson, a 6-8 small forward out of California; Mamadou Diarra, a 6-8 power forward; and Juwan Durham, a 6-11 center out of Tampa.
This is the final non-conference game for both teams.  The last meeting between the teams was a Georgetown double OT win at Gampel Pavillion in Storrs on February 27, 2013. In that game Otto Porter was the hero with a game-winning layup with 9 seconds remaining.  UConn (13-5, 4-2 in the AAC) picked up its second-straight conference win on Tuesday with a 60-42 victory over Tulane.
Who to look for–Huskies:  The Huskies have a well-balanced offensive attack with four players averaging 12 points per game or more. Sophomore guard Daniel Hamilton leads the team both in rebounds ( 8.7 ), and assists ( 4.8 ) while averaging 12.2 ppg.  Graduate forward Shonn Miller is the team's leading scorer, with 13.5 points per game off 60 percent shooting from the floor and scored 18 points with 7 rebounds against Tulane.  Seton Hall transfer guard Sterling Gibbs, also contributes.  Senior guard Omar Calhoun (no relation to former coach Jim) scored 12 points off the bench vs Tulane. The Huskies are tough at home, 4-1 at the XL Center in 2015-16 and with 253-89 (.740) record at home overall.  UConn has a 9-3 record in non-conference play this season, including a 7-0 record at home.  The best competition they have seen at home, however, have not been close to the quality of a team like Georgetown playing at their best.
The Hoyas have an all-time 35-29 record over Connecticut dating back to the 1958-59 season, meeting 58 times as members of the Big East.
Coming off of its signature win at Xavier, I think the Hoyas should be riding high and hopefully committed to muscle memory all of the great things they did against the Top 5 Xavier team.  Against the Musketeers, sophomore guard Tre Campbell had a career game with 21 points and senior leader DSR had 20 points to pace a torrid Hoya offense, which shot 51 percent from the field. On the flip side, the Hoyas held the Musketeers to season-low 35 percent shooting and out-rebounded a dominating team on the boards.  The Big Men, especially Govan and Hayes, showed fans what damage this team can do when using the inside-out and the running game.  LJ Peak also returned to spark the Hoyas.
Today I think the Hoyas will have the edge today and expect our underclassmen, especially Govan and Campbell, to continue to shine, and expect continued strong shooting from DSR and perhaps Cameron and Copeland, both of whom are due for greater offensive output.  I also hope to see productive minutes from Kaleb Johnson, Trey Mourning and Marcus Derrickson.
Prediction:  Georgetown 79, Connecticut 73
It's almost Game Time!