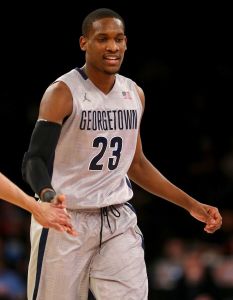 The game ball belongs to this young man, Aaron Bowen.  
Some context:  Fresh off of Wednesday night's hard fought 5-point loss to the #10 Kansas Jayhawks, Hoya fans wondered what they would see when the Hoyas hosted Radford University of the loaded Big South Conference.  (Can you name any team in the Big South? Coastal Carolina sits atop the conference standings today.)  The Highlanders of Radford, used to being ignored due to its more prominent neighbor, Virginia Tech of the ACC, took it to the Hokies and handed them a 68-66 loss last week in Blacksburg.  That was its first win over an ACC team in 25 contests.  Perhaps the Highlanders had delusions of surprising the Hoyas on a sleepy Saturday at Verizon Center, but it was not to be thanks to this sensational athlete and 6'6″ fifth year senior forward from Jacksonville, Florida, and his motivated teammates.  Aaron Bowen had a career high 16 points on 8 for 9 shooting, 4 rebounds and 2 blocks, all of which cannot be expected from just any "reserve" player.  What Bowen also brings are the intangibles, the energy, great "D" that largely goes unrecorded and unreported, and today, a 360 degree dunk that awakened the much too small crowd at Verizon Center.  NB (That is, Nota bene):  Bowen played 3 minutes in the Kansas game.
A Team Player in a Team Game:  Coach JTII had the luxury of playing his full complement of athletes today after it became clear by the middle of the first half that the Hoyas were too strong, tall and talented for the Highlanders to mount a challenge.  Forty-two (42) bench points tells the story as Bowen, freshman Paul White (12), sophomore Reggie Cameron (5) and freshman Isaac Copeland (4) all contributed.  White was 4 for 7 from the field, 2 for 3 from 3 point range, and 2 for 2 from the free throw line.  White is a pure shooter whom I know will excite Hoya fans in games (and hopefully seasons) to come.  Cameron and Copeland too found their shooting touch in 12 minutes each.  Freshman true point guard Tre Campbell played a solid 16 minutes, gaining important experience before that grueling Big East schedule begins at Xavier on New Year's Eve.  Campbell showed his efficient ball handling skills against a Radford press and had 4 steals, an assist  and a bucket.  While the game ball goes to Bowen (also known at Verizon as "Aaron Brown"), the entire game goes to the Hoya "Reserves", this season meaning likely starters on many top D I teams.
Owning the Boards: The Hoyas out-rebounded Radford, 39-24, and seniors, center Josh Smith (13 minutes, 6 points) and forward Mikael Hopkins (21 minutes, 5 points), led the team with 6 and 5, respectively.  Guards Jabril Trawick, D'Vauntes Smith-Rivera (DSR) each had 4 boards.  Hopkins added 3 assists, 2 steals and 2 blocks and is playing with greater intensity this season that serves this young and talented Hoya team well.
DSR and Jabril Finding a Groove:  Perhaps as important as this victory and righting the course before upcoming games against Conference USA Charlotte at home on 12/20 and against the Indiana Hoosiers at Madison Square Garden on 12/27, is to have our upperclass guards and floor leaders in the right mindset.  Coming off of his poorest shooting night in memory, DSR again struggled from the floor, shooting 1 for 9 from the field and 1-5 from the three point land yet perfect from the line (6 of 6).  While understandable against the larger and more talented Jayhawks, it seems from this observer that DSR is overthinking, shooting "tight" and missing the mark.  Were I to advise DSR, I'd say "Relax.  See all of this talent around you, you don't have to carry the scoring burden this season.  When you shoot, be instinctive."  DSR finished with 8 points, 5 assists, 4 rebounds and 2 steals.  Dishing the ball when you aren't hot is also good advice.
As to Jabril, fans were worried when he hobbled off the floor at the end of the Kansas game.  Philly Tough bounced back with a fine performance today, 8 points on perfect shooting including 2 for 2 from 3, and 7 assists.  To succeed in the conference, this team will rely on these two seasoned guards and leaders.  L.J. Peak was again a starter today and in 21 minutes was 2 for 8 from the field and 0 for 3 from the 3 line.  Of the three freshman, if I were Coach (I can play this game), I would start White.  However, with three talented freshman forwards in White, Peak and Copeland, that it an enviable decision to have to make.
Fundamentals:  The Hoyas had only 13 turnovers and shot 75% from the charity stripe.  I think when they are not studying for finals or writing final papers, they are working on free throws and fundamentals.  Nineteen assists means they are sharing the ball.  That is what a good team does.
I'm happy for Radford that they shocked their crosstown rival in Blacksburg last week.  However, their run ended before it started.  They were no match for the Hoyas swarming defense and triple towers of Hopkins, Smith and Bradley Hayes (yes, a solid 10 minutes from Hayes!).
Aaron Bowen, enjoy your evening.  Your fans are looking for many more highlights from you this season!