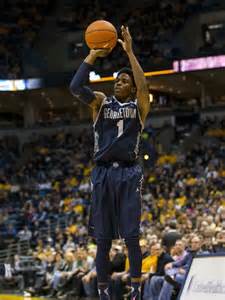 The benefits of a deep and talented bench were never more in display than yesterday.
Nothing that happened in yesterday's game at Marquette was quite as expected.  Starters LJ Peak and Jabril Trawick combined for a total of 15 minutes.  The Georgetown Hoyas scored a total of 95 points in 45 minutes.  The Hoyas shot 88% from the free throw line, on 28 for 32  shooting.  The team had little trouble scoring, from the free throw line, the arc (43%) and field goal range (50%).  Any commentator who continues to refer to the Georgetown offense as the "Princeton Offense" should be fired because they don't know Jack.  The Georgetown Hoyas are so packed with talent this season, upperclass and freshmen, that students, alumni and the entire Hoya fan base could get very used to the unexpected.
At the same time, the "unexpected" is beginning to become the expected high standard of play that the Hoyas have exhibited in recent games.  From Josh Smith's monster performance where all Steve "Wojo" Wojciechowski and his Golden Eagle squad could do to stop him was to knock him to the ground.  And Josh got right back up and sank his free throws.  To DSR continuing to run the offense and score, which every guard knows is a difficult task–yesterday, DSR scored 19 points on 5 of 10 field goals, 5 of 8 from the arc and 4 of 5 free throws, 2 critical in the final 39 seconds of OT to put the Hoyas up 91-85. Senior Mikael Hopkins, who missed all 6 free throws in the loss at Providence, is now shooting like DSR from the line, dropping 11 of 12 for a total of 13 points, 5 rebounds and a block.
Enter the Freshmen.  While the team lost LJ Peak to what we all hope is a minor injury for the game, Isaac Copeland emerged again with a 17-point performance on the heels of his game winning 3-pointer against Butler and 17 points in the rout over Villanova.  Paul White fouled out yesterday after contributing 3 points, 4 rebounds and 3 assists, but Tre Campbell filled in, asserting his role on the team, playing his best minutes of the season both in handling the ball as point guard and as scorer, scoring the knock out blow 3-pointer to extend the Hoyas lead to 4 in OT, from which Marquette never recovered.  Campbell finished with 14 points on solid shooting under pressure (4-7 FG, 2-4 arc, 4-4 FT) with 4 rebounds in 28 minutes.
ProminentPlayers of the Game (Smith, Hopkins and Copeland):  Sharing the ProminentPlay Game Ball this season.  This is becoming more difficult as the season progresses and new leaders emerge.  At Marquette, the Prominent Players of the Game are seniors Josh Smith and Mikael Hopkins, and freshman Isaac Copeland.  While again this was a total team effort with six players scoring in double figures, without Josh, the target down low, the Big Man laying in "easy" points in the paint (not so easy when three players are hanging on him but he makes it look easy), the Hoyas would not have gotten the good looks outside.  Josh finished with 18 points and 15 rebounds on 6 for 8 shooting and 6 for 7 from the line, 2 assists 2 steals.  Mikael shares in this award for his stellar performance overall and at the line (11 for 12), which should be lauded and was every bit necessary to secure the W.  Isaac Copeland again stepped up when three Hoyas when down, comrades Trawick, Peak and Aaron Bowen, all of whom Hoya fans hope will be back in action for Xavier Tuesday night in a revenge matchup.  Copeland is contributing as a veteran mid-season on the road in the Big East and should be recognized for another great performance.
ProminentPlay of The Game:  Tre Campbell's cool 3 pointer in OT to extend the Hoyas lead to 89-85 in OT.  Campbell is another freshman who stepped in yesterday to fill a void and lead his team to victory on the road.  Valuable minutes in hostile territory for freshmen Campbell and Copeland, and as some suggest and I agree, this Hoya team will go as far as its freshmen take them.  All signs to date suggest that these freshmen are dreaming big.
Lesson to Matt Carlino:  Marquette senior guard Matt Carlino made a HUGE mistake that may have ultimately cost his team any chance in OT.  Carlino, who finished with 26 points (5 from the arc) along with teammate, freshman sensation Duane Wilson, celebrated too early when he knocked down a jumper with 0.9 on the clock in regulation.  Prematurely celebrating a victory because he thought he had knocked down a three, the referees reviewed the footage to confirm that Carlino's foot was on the line, thus ending regulation in a tie rather than a win.  If the Hoyas didn't need any additional motivation to beat the Golden Eagles, Carlino handed it to him with his gloating.
Final Observations:
1.  Injuries:  Aaron Bowen played a fine 23 minutes with 11 points on 5 for 8 shooting, 2 assists and a steal until he was felled by an ankle injury in the second half.  Bowen again proved his worth to this team and may he get well soon as well as Peak and Trawick.  The Hoyas may be deep, but they won't continue this streak without their full complement of players.  The bench is there for a reason, and we can't see it depleted.
2.  "Big Men" Soar:  Neither Smith nor Hopkins were plagued by fouls yesterday, a major improvement from prior games when both big men were prone to get into early foul trouble, which ultimately hurt the team.  Only Paul White fouled out yesterday after only 20 minutes of play.
3.  #SuperFrosh Mature, a Game at a Time:  While Peak left the game with injury and White fouled out, Copeland continued to shine and Campbell was the latest of the freshman to step in at a critical time.  Everyone needs to be prepared to play on this Hoya team, and to date, it seems that they are.
4.  Next Up:  A Top 25 ranking and revenge against the the Xavier Musketeers at the Phone Booth.  While some may disagree where the Hoyas deserve to be in the national rankings after the last few victories, a Top 20 ranking is where they deserve to be.  However, others argue it doesn't really matter where they are now but where they are at the end of the season.  Still, a Top 20 ranking (#18-19, 20) will show the Hoyas and Coach JTIII respect and it is well deserved, especially with their current 13 RPI ranking and 4 SOS in the nation.
The Georgetown Hoyas (14-5, 6-2 with sole possession of first place in conference) look to avenge an ugly loss on New Year's Eve at Xavier and continue their winning streak at home on Tuesday evening.  After this latest run, we expect the Phone Booth to be packed with Hoya fans enjoying this late January run.
Marquette is now 10-9 overall and 2-5 in the Big East.  Perhaps after this loss, Wojo may take some solace today if his former coach and mentor Coach K is able to prevail over Big East's St. John's to secure his 1000th coaching win (Army, Duke).
1/25/15