Dedicated fan at Citi Field before Game 4 of the NLDS 10-13-15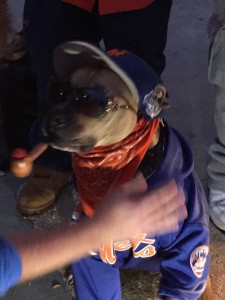 The Mets had the perfect opportunity to  seal the deal.  At home, up 2-1 in the Series and with 24-year old rookie Steven Matz on the mound, playing in his backyard before his proud family, friends and 45,000 other salivating Mets fans open to a post-season euphoric moment at Citi Field.  That Euphoric Moment will have to await another day, either on Thursday in LA or beyond.
Matz was not a poor choice for Game 4 starter as  he went 4-0 with a 2.27 ERA in six major league starts this season.  However, the way veteran Bartolo Colon has been pitching in the middle innings to keep Mets Hope Alive during the series leads me to believe he may have been the better choice for Game 4 starter.
On Tuesday night, the Mets had a huge problem–the reigning NL MVP and three-time Cy Young Award winner Clayton Kershaw decided it was time to toss the post-season failure monkey from his back.  With seven strong innings to shut down the Mets offense, after the Mets scored 13 runs off of the no-name Dodger pitchers on Monday night, Kershaw and the Dodgers now force a Game 5.
Throwing what looked like a bunch of junk, those very well placed pitches of all varieties and speeds kept the Mets bats at bay, and aside from Daniel Murphy's solo homer and a late game threat in the 8th inning, the would-be Kings of Queens were silenced.  Kershaw struck out eight, walked one and yielded only three hits in quieting the crowd at Citi Field. Daniel Murphy hit his second solo homer off Kershaw in the series for the Mets only run.  The only other Met offensive threat came against Kenley Jansen in the eight, before he recorded his second save in the series.  With two runners on in the eighth and with a full count, Jansen retired Murphy on a fly to right.
What's Immediately Ahead:  In what could be the matchup of the post-season or entire baseball season to date, on Thursday night Mets turn again to ace Jacob deGrom to face the Dodgers' own ace, Zach Greinke.  Any baseball fan who prefers pitchers' duels will be tuned into this final game of a series that has evolved rather predictably. Jacob deGrom is the Mets Mr. deCool and deCalm and I believe he will deliver.  However, the equally if not more dominating Greinke will be pitching at home.  Remember when the Mets had the home field advantage before blowing it in the final weekend?  Now they may finally feel that loss.
Justin Turner Doing Major Damage:  Justin Turner has been handling Mets pitching with ease.  Tuesday night he delivered yet another key hit against his former team. What Mets fan doesn't wish they have the burly, dirty bearded hitter on their side now?  Turner was released by the Mets after the 2013 season as they declined to offer him arbitration.  In this series he is forcing the front office to remember his name as he is 7-for-15, that is  .467 with four doubles and three RBIs.  In the third inning, Kershaw's one-out single led to a three-run inning.  With two outs, Howie Kendrick grounded a single up the middle and Adrian Gonzalez blooped an RBI single then Turner added a two-run double.  That was all the run support Kershaw needed on a night when even Captain Wright couldn't muster up another Amazin' Miracle and Yoenis's bat was shut down as well.
Who Wants to Play the Cubs?  I think destiny would have the long suffering old foes Mets and Cubbies play each other, but Greinke et al may have other plans.  The NL Championship Series opens Saturday.
Mattingly's Best Call:  Aside from having the good fortune of having two of the best pitchers in baseball on his squad, the Utley Incident seemed to do little to inspire the large Mets crowd on Tuesday night, unlike Monday night when the issue was top of mind.  Utley did not see action for a second night, despite the fact that he was eligible to play.  One, Mattingly didn't need another bat after Matz was charged with three runs on successive hits in the third;  and two, he was smart move not to show the former Philllie's face to the increasingly quiet crowd, bar the eighth inning threat.  Still a target of some chanting Mets fans, Utley essentially watched from the bench as the Dodgers handed Matz his first loss as a major league pitcher.
A Duda-less Lineup?  For his great hot spell in July-August, Duda's bat has been quiet to non-existent.  I have been longing for the injured Juan Uribe to return, but that doesn't seem likely, at least not by Thursday.  Not to point fingers, there have been a few Mets in the lineup who have been virtually invisible, and Duda is one of them.  What to DU about it with so few options.  Kelly Johnson had a chance last night, with no ROI.
Is This the Year of the Dodger?  With a $290 million payroll that is $66 million higher than that of any other team, the Dodgers are seeking their first pennant since 1988, when they won the World Series. While they have won three consecutive NL West titles, they have won only one playoff series in that span.  Will Turner, Gonzalez, Kendrick et al  provide Kershaw and Greinke with the run support to make this a Dream Year for Dem Bums originally from Brooklyn?
deGrom or Greinke?  Aside from a pair of solo homers during a 5-2 victory in Game 2, Greinke went seven innings and struck out eight without a walk.  He is 3-2 with a 3.48 ERA in eight postseason starts and went 19-3 with a 1.66 ERA this season, the lowest in the majors since 1995 when Atlanta great Greg Maddux claimed a 1.63 mark.  If you are a betting person, Greinke seems to be the pitcher to bet on at home.
However, for the Mets, in his postseason debut Friday at Dodger Stadium, deGrom pitched seven scoreless innings. Last season's NL Rookie of the Year struck out 13, which matched Tom Seaver's aka The Franchise's franchise record for a postseason game.
deGrom will need major support from the Mets lineup on Thursday night or else it will be a long winter for Mets fans.  IF the Mets bats come out early and deGrom can pitch with a lead, even as few as 2 runs, the Mets will meet the Cubs in the NLCS.  However, if the bats are as anemic as Tuesday night, the only comfort fans may have until April are the official player jerseys on our backs, from Seaver to Gooden and Strawberry to Wright, deGrom and Harvey spanning 6 decades of great players, all well represented at Citi Field last night.
We'd rather be playing on …
Winner Take All, is deGrom Destined for Greatness?